DisruptHR Tampa (FL, USA) will be held on Thursday, May 3, 2018, at Armature Works and we‰'re excited to announce an awesome lineup of speakers for their 1st DisruptHR event!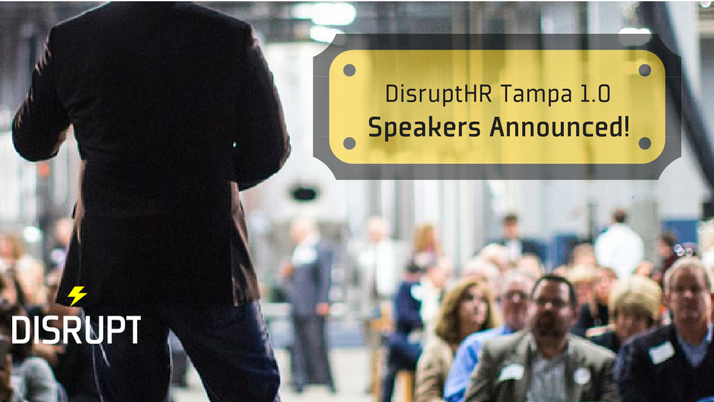 DisruptHR Tampa 1.0 Speakers
Jen Gudenkauf / @JenGud79 — Vice President, Human Resources – North America at SYKES
"50 Shades of Culture"
Kevin Johnson — Shareholder at Johnson Jackson
"How To Train Your Lawyer: Getting What You Need From Outside Counsel"
Elizabeth Frazier — Vice President, Philanthropy and Community Relations at Tampa Bay Sports & Entertainment – Amalie Arena | Tampa Bay Lightning
"Community & Culture"
Kim Pope /@KimPope — Executive Vice President, Client Solutions at WIlsonHCG
"Grassroots Innovation: From the Ground Floor to the C-Suite"
Dulani Porter — EVP/Partner at SPARK
"Going Tribal: Creating Cultures Where Ideas Thrive"
Misty Brown — VP, Communications & Culture at Bisk
"Beyond The Ping Pong Table: Creating A Winning Corporate Culture"
Gary Vien / @Gary_Vien — Chief Administration Officer at Suncoast Credit Union
"Don't Wear Your Raincoat in the Shower"
Tony Moore / @tonymoorespeaks — Culture Architect, Keynote Speaker, Recovering HR Executive at Tony Moore Speaks, LLC.
"Stop Recruiting Top Talent"
Jen Locklear — Chief Talent Officer at ConnectWise & Tony Thomas — VP of Strategy at ConnectWise
"It's Elemental" – Catalysts that cause positive chain reactions throughout your company culture."
Geoff Guidera — SVP, Administration at Strategic Property Partners, LLC
"Living Transparently"
Craig Dawson, Ph.D. — Director, HR Assessments at PAR/Invista
"Innovations in Talent Assessment: Driving ROI with Science"
Ed Buckley, Ph.D. — CEO of Peerfit & Dan Greco — Managing Director at Ark Applications, LLC.
"When Data Disrupts, Everything…"
Susan Klinefelter / @smklinefelter  –Partner at Mercer
"The Connected Human Body and My Mother Always Told Me That HR Was Right"
Jen Glor — Principal Consultant at LHR
To Be Announced
Thanks to DisruptHR Tampa 1.0 Sponsors!