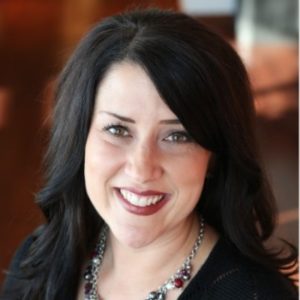 Who are the people that are taking the lead in disrupting the future of work?
They're the official Disruptors (Organizers) of DisruptHR events held in cities around the world. Each week, we'll introduce you to one of these intelligent, inspiring, and beautiful people (okay, pick two) who have stepped up, and volunteered to organize a Disrupt HR event in their city.
Kelly Burlage of DisruptHR Chicago (Disruptor #242)
LinkedIn – [ Kelly Burlage ]
Twitter – [ @kburlage1 ]
Who are you, and what do you do in your "day job"?
My name is Kelly Burlage and I currently work as a user acquisition/strategy owner for a tech startup based in Jacksonville, FL.
Don't let the name fool you as I come from a pure talent acquisition and HR background and focused the better part of 17 years swimming in the staffing, RPO, and corporate strategic recruitment functions. My day is anything but normal, I develop and execute strategies that can help randrr (reinvent and revolutionize recruitment) grow and retain our user base.
I spend time in the field developing relationships with strategic partners, I work first hand with people developing effective job search strategies. I create workshops and training sessions to help people navigate through the job search cycle.
My role changes daily with an emphasis on product, partnerships, strategy and growth tactics.
How did you first hear about DisruptHR?
I was fortunate to have met the Founder of DisruptHR Chicago (Nicole Dessain) through the Star Chicago Mentoring program.  In meeting Nicole and following her on social, I started to get exposure to the Disrupt community.
Why did you decide to raise your hand and become an organizer for DisruptHR events in Chicago?
Honestly, it was the way Nicole talked about the vision and mission for DisruptHR Chicago. It was something I felt like I could get behind and different than any other events that I have attended previously.
I spent time watching all of the speaker talks on the Disrupt site and felt very aligned with the thread of who DisruptHR was and wanted to be included.
I volunteered in 2016 for an event and I was shocked at the turnout, the venue, the style, the speakers and just how well the whole event ran. People showed up with an enthusiasm that you don't see very often. The energy that was contagious.
How many events have you organized?
I started off as a volunteer and then was appointed board member in 2017 and since that time I have been responsible for organizing 5 events.
1 event held at 1871 in the spring of 2017 which we had a sold out event of 250 people, another event in fall of 2017 (again sold out 250) people. Followed by 2 smaller events one in June of 2017 for about 60 and another in November for another 60 people followed by an event in December 2017 which had about 50 people attend.
What types of people/industries have attended your events?
Overall the mix of people has been really interesting. We pride ourselves on "not just being for HR" therefore our audience members include CEOs, CFOs, VPs of HR, Talent acquisition professionals to name a few.
The large corporate environments to the startup communities as well as mid sized organizations all sharing the same common theme, that they come to learn and meet people that are innovating and bringing change to their organizations.
What are you most proud of that has come out of being involved with/organizing DisruptHR events?
Being part of an organization that brings change and hacks issues that we all face. Being innovative and a trusted source in the Chicago community.
What kind of feedback have you received from those who attended prior DisruptHR Chicago events?
I am always very energized with feedback that we receive via our survey but also real-time feedback from people at the events. I love to hear "this is like nothing I have ever gone to before." or "I had some great takeaways from today." "How can I get involved?" always makes me smile, people are busy and when they want to devote their time and energy to Disrupt we must be doing something right.
What is your favorite DisruptHR Talk, and why?
I can only pick one… Well, I have a few favorites I would say my favorites were the ones that resonated the most with me specifically and caught the attention of the audience. 5 minutes is quick, therefore it is a skill to be able to get up in front of people and grab their attention, hold it and be memorable. All of our speakers have been amazing but the ones that stick out the most to me are "10 HR Commandments: Don't Think Small. Think BIGGIE" by Jamael "Isaiah" Clark  First of all anyone that can rap in front of a room full of people has my vote but there were some great takeaways that he spoke about that we all should give thought to. Including candidate auditions for interviews for companies to hire and incentivize based on execution.
10 HR Commandments: Don't Think Small. Think BIGGIE. | Jamael "Isaiah" Clark | DisruptHR Talks from DisruptHR on Vimeo.
I also really enjoyed "How A No Bu!! S@*! HR Approach To Working With Your Executives Can Lead To Greater Influence"  by Amy Bastuga. Amy's talk on authenticity and feedback is key as well as addressing dysfunction in your team and providing solutions that people understand. Providing 3 solutions that could be applied was impactful.
How A No Bu!! S@*! HR Approach To Working With Your Executives Can Lead To Greater Influence | Amy Bastuga | DisruptHR Talks from DisruptHR on Vimeo.
Based off of the Talks and conversations at your events, what do you feel are the areas with the biggest opportunity for disruption?
Diversity in hiring always is a big topic that needs addressing. I think most people are nervous to discuss it but disruption would be welcomed within Diversity initiatives and hiring. I also think in keeping with the news and everything going on today we have started to see disruption in the #metoo movement but this is ripe for continued disruption.
What excites you or frustrates you about the future of work, your career and/or DisruptHR?
The future of work! I get excited when people stop complaining about problems and do something about it. Being a part of my day job at randrr as well as DisruptHR are both aligned with similar missions which are to remove frustration and help people, innovate and inspire.
The older I get the more I realize it is not about what you accomplish it is how that accomplishment impacts others. Do what you love and love what you do!
What's Happening With DisruptHR Chicago:
– DisruptHR Chicago Community Page
– DisruptHR Chicago Facebook Page
– DisruptHR Chicago on Twitter (@DisruptHRChi)
–#DisruptHRChi Twitter mentions