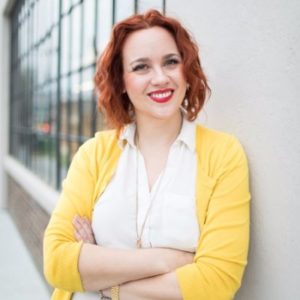 Who are the people that are taking the lead in disrupting the future of work?
They're the official Disruptors (Organizers) of DisruptHR events held in cities around the world. Each week, we'll introduce you to one of these intelligent, inspiring, and beautiful people (okay, pick two) who have stepped up, and volunteered to organize a Disrupt HR event in their city.
Dixie Agostino of DisruptHR Tulsa (Disruptor #252)
LinkedIn – [ Dixie Agostino ]
Twitter – [@SwitchGearJobs ]
Who are you, and what do you do in your "day job"?
Founder and president of Switchgear Search & Recruiting
Website: Switchgear Recruiting
How did you first hear about DisruptHR?
I can't even remember, but I know I reached out immediately to see about hosting one in Tulsa.
Why did you decide to raise your hand and become an organizer for DisruptHR events in Tulsa?
I thought this would be an event where I could hear the kinds of ideas I wanted to know about, not the same old song and dance just to get certification credits. I thought this would be a way to talk about people strategy and not just the nuts and bolts of HR.
How many events have you organized?
This was my first event to organize or attend! We had about 150 attendees and are hoping for 200+ in our second event.
What types of people/industries have attended your events?
We had business owners, people in non-profits, HR at all levels, students, start-up entrepreneurs and even a politician!
What are you most proud of that has come out of being involved with/organizing DisruptHR events?
The energy and excitement that people now have about these disruptive conversations. That the willingness to change, adapt, break the mold seems to be a little closer where once there was much resistance. I'm proud that HR can seem cool and fun, because it is.
What kind of feedback have you received from those who attended prior DisruptHR Tulsa events?
"(We) I had a great time at last night's Disrupt HR event. We were actually planning to leave ½ way through to make another scheduled engagement, however, the speakers were so engaging we couldn't leave. Kevin Mathews and the other closers for the evening certainly did not disappoint. In addition, it was very refreshing to have a forum (locally) to hear important lessons such as "how not to be a d**k" and "not to be a **hole". This is wisdom that is not shared enough by thought leaders and is so critical to an organizations culture and employee wellbeing…not to mention high performance. Thank you for your vision and execution on this event. It was greatly needed in our community. You and your team are truly making a difference out there!" – Stefan A. Mecke, JD, MBA, SHRM-SCP, SPHR and Attorney at Barber & Bartz
"THANK YOU for disrupting HR in Tulsa last night! There were several things enjoyable about the evening, but one thing that burbled up today … we all had time just to talk to each other. We weren't checking the time, needing to get back to work or some other pressing demand. I appreciate you giving us the space to do that and the entertaining and thought-provoking presenters." – Julie
Disrupt HR was really fun. Loved the format and the music. 🙂 – Mandy
What is your favorite DisruptHR Talk, and why?
Linda Clark's talk about love letters from Operations from Disrupt OKC
Hate Mail From Operations | Linda Clark | DisruptHR Talks from DisruptHR on Vimeo.
Based off of the Talks and conversations at your events, what do you feel are the areas with the biggest opportunity for disruption?
The opportunity to get more real and raw, to be less afraid that we'll say the wrong thing or be misunderstood. The chance to tell more messy stories so people see the bad with the good too.
What excites you or frustrates you about the future of work, your career and/or DisruptHR?
I feel HR wants to hide behind paper instead of getting out there and having the tough conversations at all levels, that includes coaching executives. I want HR to be less intimidated!
What's Happening With DisruptHR Tulsa:
– DisruptHR Tulsa Community Page
– DisruptHR Tulsa Facebook Page
–#DisruptHRTulsa Twitter mentions