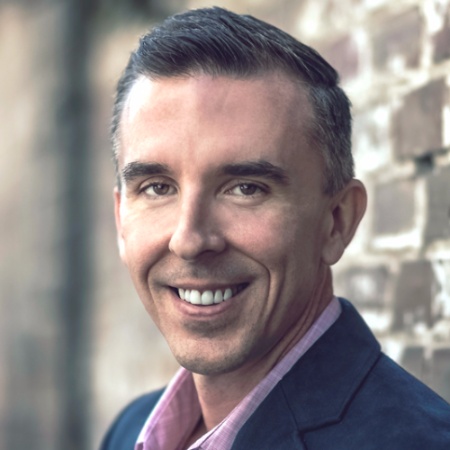 Who are the people that are taking the lead in disrupting the future of work?
They're the official Disruptors (Organizers) of DisruptHR events held in cities around the world.
Each week, we'll introduce you to one of these intelligent, inspiring, and beautiful people (okay, pick two) who have stepped up, and volunteered to organize a Disrupt HR event in their city.
Chad Norman – DisruptHR Charleston (Disruptor #106)
Website – catchtalent.com
LinkedIn – Chad Norman
Twitter – @catchagency
Facebook – Catch Talent
Instagram – catchtalent
Who are you, and what do you do in your "day job"?
Chad Norman – Chief Marketing Officer & Co-Founder at Catch Talent
How did you first hear about DisruptHR?
We were looking to host an HR-focused event in Charleston with a few of our partners, and saw DisruptHR mentioned on Facebook by a company we followed.
Why did you decide to raise your hand and become an organizer for DisruptHR events in Charleston?
Charleston has a surging business community, with a high concentration of HR Tech companies, so hosting a progressive, forward-thinking event made a lot of sense for our business.
We had talked about creating an event on our own, but when we saw DisruptHR it seemed like a perfect fit. Plus, as a marketing professional, I have been planning and hosting large events for years, so I knew we could make it happen.
How many events have you organized?
We sold out DisruptHR Charleston 1.0 in October 2016, and are hosting our second event on May 17, 2017.
We had around 150 HR professionals attend the first event, and our plans are to expand ticket sales for the second round.
What types of people/industries attended your event?
We saw a huge turn out from the HR community, but the event also attracted a lot of marketing professionals and entrepreneurs.
Charleston has a growing technology and startup scene, so that community turned out looking for new ideas and concepts on scaling companies and engaging a highly competitive workforce.
What are you most proud of that has come out of being involved with/organizing DisruptHR events?
I'm most proud of bringing together this community, and cultivating an environment that challenges the norm and pushes our industry forward.
Because we run a recruiting and employer brand agency, I literally think about relationships and people all day long – so seeing a movement like DisruptHR Charleston emerge so quickly, and with so much strength, is both exciting and humbling.
What kind of feedback have you received from those who attended the first DisruptHR Charleston event?
We were overwhelmed with positive feedback from our first event, which reinforced the notion that the Disrupt format is working.
I liked this comment from our follow-up survey: "It was refreshing to see non-HR people talking about HR issues," which I feel speaks directly to the mission of Disrupt. Different perspectives, unique ideas, thought-provoking talks… we all have jobs and careers, so every viewpoint matters when it comes to the evolution of the workplace.
What is your favorite DisruptHR Talk, and why?
What kind of event promoter would I be if I didn't shine the spotlight on Ben Sands from our first DisruptHR Charleston lineup?
Ben's talk "Your Engagement Strategy Is Broken: Here's How To Fix It" struck a chord not only with me, but our entire audience, and very much spoke to the spirit of DisruptHR.
Plus, he's a fantastic speaker, and really leaned into the format and energy of the event.
Your Engagement Strategy Is Broken: Here's How To Fix It | Ben Sands | DisruptHR Talks from DisruptHR on Vimeo.
Based off of the Talks and conversations at your event, what do you feel are the areas with the biggest opportunity for disruption?
There was a lot of content around culture and engagement, but the area most ripe for disruption is talent attraction.
There is a seed change happening in the way companies attract and hire talent, from employer branding to unique perks and benefits to employee referrals, and I feel this area of HR will see profound changes in the coming decade.
What excites you or frustrates you about the future of work, your career and/or DisruptHR?
How about a HRaiku?
Together We Grow
To Build A Future That Works
With Each Story Shared
Follow What's Happening With DisruptHR Charleston:
– DisruptHR Charleston Community Page