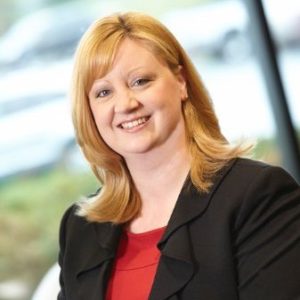 Who are the people that are taking the lead in disrupting the future of work?
They're the official Disruptors (Organizers) of DisruptHR events held in cities around the world. Each week, we'll introduce you to one of these intelligent, inspiring, and beautiful people (okay, pick two) who have stepped up, and volunteered to organize a Disrupt HR event in their city.
Angela Fischer 

of DisruptHR Minneapolis-St. Paul (Disruptor #154)

LinkedIn – [Angela Fischer]
Who are you, and what do you do in your "day job"?
Angela Fischer, PHR Director, Member Experience for MRA – The Management Association.
I am a skilled human resource and operations leader with more than 16 years of progressive HR experience in multiple industries, my skills cover a wide range of areas such as payroll, recruiting, employee relations, benefits management, legal compliance, office management, people management, call center operations, performance management, and training.
I have a desire to streamline operations and strive for continuous improvement, I have a keen eye for detail.
How did you first hear about DisruptHR?
A colleague heard about another DisruptHR event and encouraged me to check it out.
Why did you decide to raise your hand and become an organizer for DisruptHR events in Minneapolis – St.Paul?
MRA does a great job putting on traditional events and HR conferences.
We wanted to try something new and keep MRA members informed of the latest trends and topics in the HR arena. In addition, expand our reach to the community at large and broaden awareness of HR today.
How many events have you organized?
Two DisruptHR events – 10/11/17 in Des Moines, IA with around 150 attendees and 10/25/17 in Minneapolis, MN was a sold out event with close to 350 attendees.
What types of people/industries have attended your events?
HR and Operation leaders, Recruiters, HR technologists, CEO's, Learning & Development managers, owners, diversity experts, and sales executives from all different size companies and industries.
What are you most proud of that has come out of being involved with/organizing DisruptHR events?
We pushed the envelope making people think in new ways with topics such as the 5-hour workday, compensation transparency and how to make compliance sexy.
I'm proud to bring a cool concept to the areas and host successful events.
What kind of feedback have you received from those who attended prior DisruptHR Minneapolis – St. Paul events?
Lots of thank you's for a fun event with great ideas to help attendees think in new ways and connect with other HR professionals.
What is your favorite DisruptHR Talk, and why?
Oh the Talent You'll Find: The Untold Dr. Seuss Story by Elena Valentine, CEO Skill Scout.
Oh The Talent You'll Find: The Untold Dr. Seuss Story | Elena Valentine | DisruptHR Talks from DisruptHR on Vimeo.
Rhyming the entire presentation was a creative way to share the challenges of recruiting talent and how you can stand out by bringing your job postings to life.
Based off of the Talks and conversations at your events, what do you feel are the areas with the biggest opportunity for disruption?
Compensation transparency!
What excites you or frustrates you about the future of work, your career and/or DisruptHR?
I am excited about DisruptHR because it's a pathway to boldly discuss new ideas and bring them to fruition at your company. MRA is excited to facilitate these discussions and support HR professionals in implement new ideas. MRA is your partner in the rebellion!
What's Happening With DisruptHR Minneapolis-St. Paul:
– DisruptHR Minneapolis-St. Paul Community Page
– DisruptHR Minneapolis- St. Paul Facebook Page
– #DisruptHRMSP Twitter mentions