DisruptHR Zurich (CH) will be held on Thursday, November 17, 2022, at Amboss Garage and we're excited to announce an awesome lineup of speakers for their 6th DisruptHR event!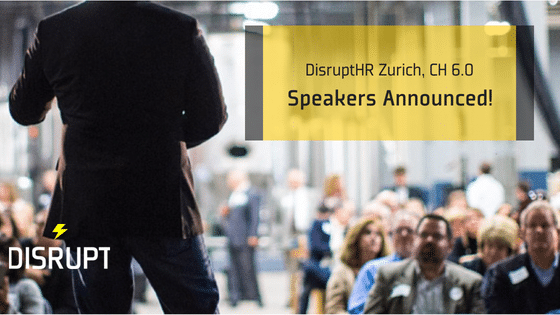 Adrian Stuber — Head of HR & Academy at UMB AG
"Cultural Transformation"
Dr. Yasemin Tahris — Co-Founder & Co-CEO of FLOWIT AG
"Warum Psychologie für das HR so wichtig ist wie Lesen und Schreiben – Beispiele aus der Praxis."
Benjamin Sager — Innovationpsychologist, Humortrainer, Gründer & Managing Director at Team Humor
"Warum ist Mut so schwer? Drei praktische Mutanfall-Ideen können hier helfen."
Bret Simner — TEDxBasel Speaker Coach, Musician, Teacher at Swiss International School
"Warum wir Musik brauchen – auch am Arbeitsplatz"
Fabio Blasi — Leiter Sourcing & Employer Branding at Kantonsspital Aarau AG
"Arbeitszeugnisse sind ein Relikt aus der Vergangenheit – sie sollten abgeschafft werden."
Christina Hübschen — Chief People Officer at ThinkProject
"Was wir von der Tech Branche lernen können: Warum es Design Thinking im HR braucht"
Pascal Baumgartner — Business Trainer & CEO of House of Future Skills
"Facilitation als Future Skill für HR"
Suzanne Lucas — Owner & Founder of Evil HR Lady
"Improve Your HR"
Monika Simanić — Head Of Department at BUSINESS IT AG
To Be Announced
Philipp Blumer — Leiter Strategisches Business Development at Bontique (Gubemo AG)
"Wie Gefühle und Wertschätzung die Produktivität steigern"
Martina Weingartner — Verantwortliche Employer Branding & Kommunikation at Schweizer Paraplegiker Zentrum
"Durch Achtsamkeit zu einem besseren HR."
Thanks to DisruptHR Zurich 6.0 Sponsors!