DisruptHR Zurich (Switzerland) will be held on Tuesday, November 13, 2018, at Kosmos and we're excited to announce an awesome lineup of speakers for their 3rd DisruptHR event!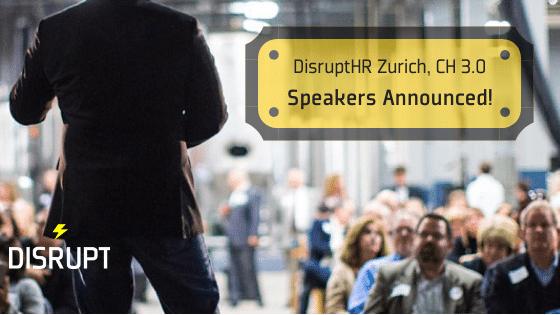 Ina Rhöös — Diversity & Inclusion Manager at IKEA AG
"Equality for everyone"
Siobhain Tapley — Executive Coach & Organisational Consultant at Smiton Consulting
"Driving the change"….Driving me mad!"
Désirée Nater — Bereichspersonalleiterin at Kinderspital Zürich
"Ohne Noten beurteilen"
Priska Burkard — Founder of SKILLS FINDER AG /TechFace.
"Freelancer 2.0"
Maria Bassi — Founder of Wunderraum AG/ACC Treuhand AG
"Vertrauen & Flexibilität"
Bianca-Janina Kux — Founder of Bianca Kux Coaching & Training
"The superpower revolution"
Suzanne Lucas — Writer & Speaker at "Evil HR Lady"
"Sorry, HR, you don't get any friends at work."
Sinan Canan / @sinancanan — Prof. at AcikBeyin (OpenBrain) Education & Consulting
"How our brains handle ambiguity, chaos and complexity?"
Clemens Burmeister — Sales Manager at JoinVision GmbH
"Algorithmen im Recruiting – Fluch oder Segen?"
Sandrine Michelmore — Senior Manager Human Capital Consulting at Deloitte
"Workplace of the Future – Ist Ihr Unternehmen darauf vorbereitet?"
Thanks to DisruptHR Zurich 3.0 Sponsors!