DisruptHR Zurich (CH) will be held on Wednesday, June 13, 2018,  at Bogen F and we're excited to announce an awesome lineup of speakers for their 2nd DisruptHR event!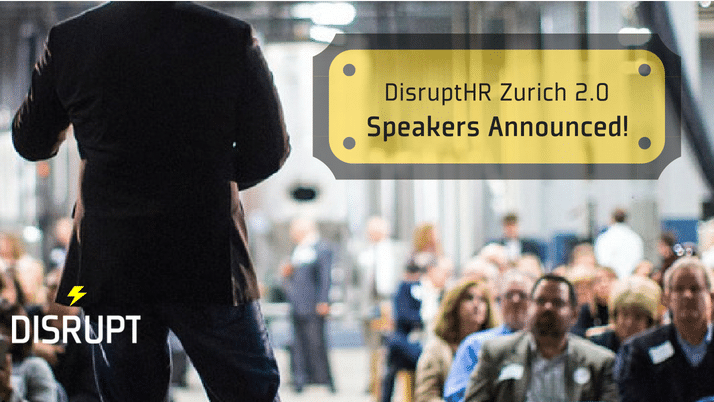 German Ramirez / @gerramirez  — Founder & Managing Partner von Spark & Strategy Ltd. , Spark & Strategy Digital & Social Media Consulting & Coaching GmbH
"The Future Of Work"
Astrid Lienhart / @InfoRechtskraft — Rechtsanwältin, Fachanwältin für Arbeitsrecht, Partnerin und Gründerin der Anwaltskanzlei Rechtskraft at Rechtskraft Advokatur
"Arbeitsrecht"
Mischa Riedo / @RiedoMischa — Co-Founder of QuercusApp Technology
"Reinventing Performance Reviews"
Muriel Neukom — Leiterin Personal at Bär & Karrer AG
"War for Talents"
Marc Vontobel / @Starmind — Founder & CTO of Starmind
"The "I" in AI"
Marcus Fischer  / @marcusfischer — Head of Global Talent Acquisition + HR Marketing at Straumann Group
"Wieviel Marke braucht der Recruiter? Personal Branding meets Talent Acquisition"
Jörg Buckmann / @buckmanngewinnt — Geschäftsführer at BUCKMANN GEWINNT GmbH
"Normal ist das neue Digital"
Matthias Mäder / @MatthiasMaeder — CEO and Member of the Board of Prospective at Prospective Media Services AG
"Predictive Recruiting und warum Daten so wichtig sind"
Schnyder Verena —  Freelancer  – Sozialversicherungsexpertin
"Arztzeugnisse"
Thanks to DisruptHR Zurich 2.0 Sponsors!