DisruptHR Yerevan (Armenia) will be held on Wednesday, September 8, 2021, at PMI Science R&D Center Armenia and we're excited to announce an awesome lineup of speakers for their 2nd DisruptHR event!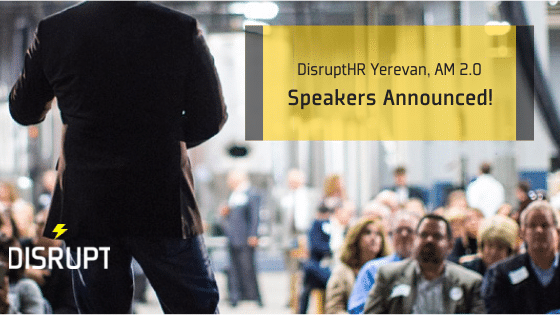 Arpi Karapetyan — Founder & General Manager at Cascade People & Business, Organizer of DisruptHR event in Yerevan
"Eat the Lemon and Find Your Role"
Astghik Sargsyan — Head of HR at VTB Bank Armenia
"What HR do people need- Human Centric or Business oriented? People need a VUCA HR in the VUCA world"
Lilit Simonyan — HR Manager at Children of Armenia Fund (COAF)
"HR and 5IR"
Arevik Hayrapetyan — Life & Executive Coach at Kaizen Mastery
"How "Mommy & Daddy issues" play out at workplace & what we can do about it?"
Mary Mazmanyan — HR analyst at Central Bank of Armenia
"Agile mindset in digital transformations"
Tatevik Chilingaryan — Senior Talent Partner at Adobe
"People & Culture Specifics in a Technology Start-up"
Marine Kusikyan — HR Business Partner at AIST Global
"Transformation of HR into HR Business Partner"
Zara Galstyan — Chief People Officer at Globbing
"Millennials & Gen Z in the Workforce"
Victoria Poghosyan — External Affairs Manager at Philip Morris Armenia
"Public VS (?) Private: Breaking boundaries"
Ophelia Sargsyan — Senior Engineer- Innovation and Alliances at PMI Science R&D Center Armenia
"Keys to key employees"
Thanks to DisruptHR Yerevan 2.0 Sponsors!