DisruptHR Upstate – Greenville (SC, USA) will be held on Tuesday, November 14, 2023, at University Center of Greenville and we're excited to announce an awesome lineup of speakers for their 6th DisruptHR event!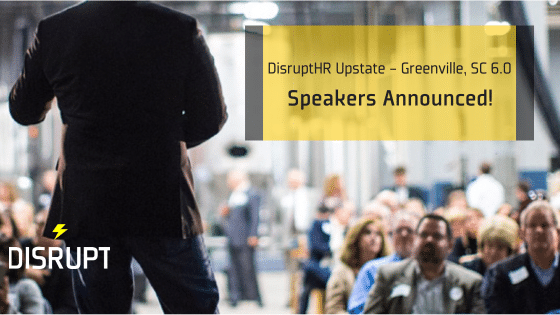 Kamber Parker  — Founder & CEO of The YoPro Know, LLC
"Embracing Intergenerational Communication"
Hollie West — Director of Human Resources at Pharma Tech Industries
"Screw Operations"
Greg Massullo — Director of Sales at ScanSource, Inc.
"Personal Brand for Organizational Influence"
"Disrupting Quiet Quitting and The Great Resignation"
Jason Collett — Strategic Human Resources Speaker at HR Consulting & Fractional CHRO, ADAPTIVITY Development, L.L.C.
"5 Reasons Your Boss Is a "Jerk" – Demystified"
Kelly Scheib — Chief People Officer at Crunchbase
"House of Cards"
Lucas Asper — Shareholder – Labor & Employment at Ogletree Deakins
"To Pregnancy and Beyond: The Less-Discussed Impacts of the Pregnant Workers Fairness Act"
Thanks to DisruptHR Upstate – Greenville 6.0 Sponsors!