DisruptHR Tulsa (OK, USA) will be held on Thursday, September 19, 2019, at First Street Flea Market and we're excited to announce an awesome lineup of speakers for their 5th DisruptHR event!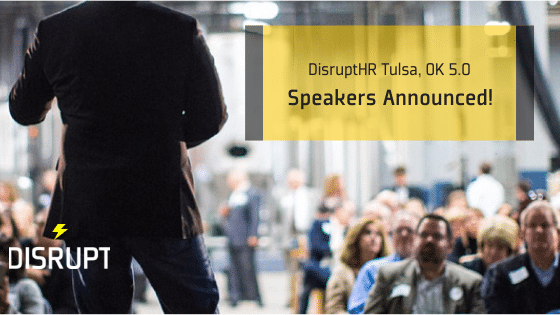 Aba Hammond / @Aba_DancingQn — Inclusion & Diversity Representative at ONE Gas
"Busting Bias"
Shamiel Gary — Former NFL Athlete, Keynote Speaker, Coach, and Entrepreneur at Purpose Driven Investments, LLC
"Game Time: Achieving excellence at work and at home"
Nancy Gunter, SPHR, SHRM-SCP / @GunterTraining — International Trainer, Speaker and Teambuilder, Chief Learning Officer at YMCA
"Learning Your Own Style: Boot Hill, Six Shooters, Milk & Leadership"
Quraysh Ali Lansana — Professor, Curriculum Consultant, and Author of The Skin of Dreams: New and Collected Poems 1995-2018 at Tulsa Public Schools
"Hate is Lazy. Love is Work."
Jordan Cox — Human Resource Manager at Oak Ridge Natural Resources
"The Medela Effect- Getting Pumped about Accomodations"
Chris Thrutchley — Labor & Employment Attorney & Employment Arbitrator, Shareholder at GableGotwals
"The Why of Harrassment Claims"
Melissa Lockhart, SHRM-CP, SPHR / @5lockedhearts — Director of Human Resources at APSCO
""You're Fired!" and other things NOT to say"
Scott Taylor — Owner, Founder of ColorPop
To Be Announced
Crystal Ifekoya, MS — Financial Representative at Northwestern Mutual
"The Butterfly Method of Success"
Christopher Williams / @EANTulsa — Sourcing Specialist at American Electric Power
"I'm the Only One of Me!"
Ashley Facio — Human Resources Information System Analyst at American Fidelity
""We talkin' 'bout Practice" – An Athlete's Definition of Applying Learned Skills to the Game"
Emeka Nnaka, MHR-CMHC / @emekannaka — Motivational Speaker and TAUW Ambassador at Tulsa Area United Way
"Building Bridges Towards People With Disabilities"
Adrienne Kallweit / @TulsaMompreneur — Founder, Designer and Safety Champion at Gig Bigwig & Seeking Sitters
"My Grandmother Died, Again"
Thanks to DisruptHR Tulsa 5.0 Sponsors!