DisruptHR Tulsa (OK, USA) will be held on Thursday, September 13, 2018, at First Place Tower and we're excited to announce an awesome lineup of speakers for their 3rd DisruptHR event!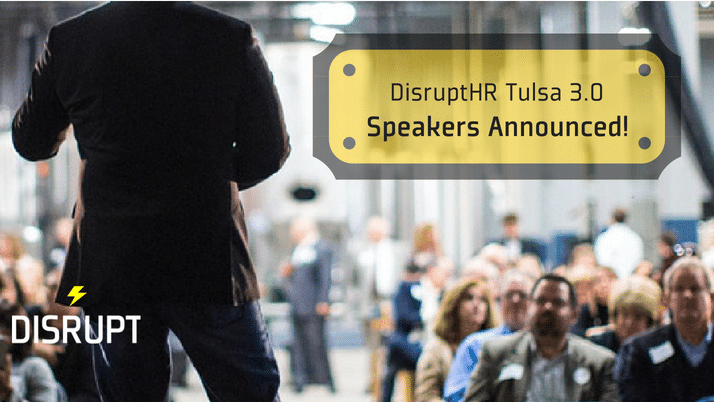 Cynthia Simmons Taylor — Head of Culture, Talent, and HR at Tulsa Regional Chamber
"What's Love Got to Do With It: Loving Who You Are and What You Do"
Tom C. Vincent II, CRCM, CIPP/US — Privacy Attorney at GableGotwals
"You Can't Spell Cybersecurity Without HR (And Other Counterintuitive Considerations)"
 Amanda McKinney — Marketing Coach at AM: Marketing 
"Flip It and Reverse It! How a Headstand Changed My Business and It Can Help You Achieve Goals."
Scott Cooksey — Change Consultant at Cooksey Connects
"Bro! Ride Your Own Race…but HOLD YOUR DAMN LINE!"
Kristi Spaethe, PHR, SHRM-CP — Human Resources Consultant at The People Perspective
"Being the Mayor of Awkwardville – How To Have Courageous/Awkward Conversations and Call People on Their Sh*t."
Dave Burlin — Certified Coach at Southwestern Consulting
"The Swayze Effect – When Violence IS the Answer"
Scott MacDonald, CPA — Senior Manager at Choctaw Nation of Oklahoma
"Whistleblowers and Truthtellers – Love'm or Hate'm?"
Yvonne Davis, MHR, SHRM-SCP — HR Generalist/Diversity & Inclusion at LUXA Enterprises
"Getting Real About Diversity & Inclusion: "Exclusion?" This S**t Hurts!"
Mark Riddle — Director of People Opps at Tenstreet, LLC
"Shoulder Pads"
Penny Horton — CEO of HR Raw
"HR Zero to HR Hero – How to Stop Being a Helicopter HR Professional"
Jerrod Murr — Professional Speaker & Co-Founder of Paradigm Shift
"From 8 Track to Emoji: Cross-Generational Leadership"
Thanks to DisruptHR Tulsa 3.0 Sponsors!