DisruptHR Toronto (ON) will be held on Monday, June 10, 2019, at Toronto Public Library and we're excited to announce an awesome lineup of speakers for their 6th DisruptHR event!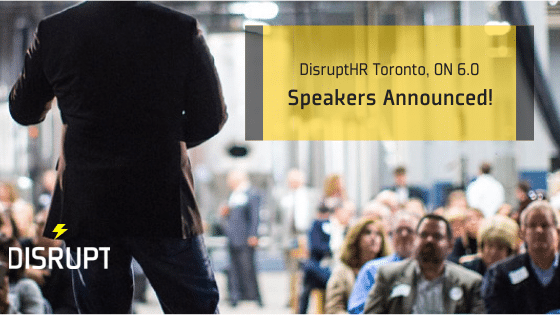 Jodi Tingling / @jmtingling — Career Strategist at Creating New Steps
"The Burn-Out Factor"
Joshua Siegal — Founder / Former VP Talent and Culture of Taito
"Finding Connection in a World of Decentralization"
John Fleischauer — Chief Talent Officer at PIVOT + EDGE
"Why the world needs fewer Recruiters"
Aaron Barth — Founder & President of Dialectic
"How "Scientific HR" Will Create More Collaborative Workplace Cultures"
Carolyn Swora / @PinnacleCarolyn — Workplace Culture Architect at Pinnacle Culture
"Let's Flip the Culture Conversation Upside Down …. Literally"
Pauline James / @AnchorHRService — Principal at Anchor HR Services
"The Cost of Nice: Stop Team Building, Start Joint Problem Solving"
Kristen Harcourt / @kristenharcourt — Founder – Executive & Leadership Coach at Kristen Harcourt Coaching & Speaking
"HR: Who's Taking Care of You?"
Melanie DellaPietra — Founder of People Minded, LLC
"The Future of Employee Development"
Kelly Smyth / @kels_smyth — Talent & Development Architect
"Future-Proof Yourself Against Bots: Design or Die"
Heather Bellingham — Talent Acquisition Lead
"To the Ones That Got Away. Reinventing the Employee – Employer Relationship."
Michelle Chan — Manager, Employee Engagement at Air Canada
"The Case for Eliminating the Corporate LMS"
Jamelle Lindo — Emotional Intelligence Leadership Coach at PARADIGM People Development
"The Emotionally Intelligent Leader In Industry 4.0"
Alex Meers — Head of Talent at WE
"Engaging Talent at the Crossroads of Purpose and Profit"
Ryan Atkinson — President of Direqlink
"The Uberfication of Recruitment & Why it's Good for Employers."
Thanks to DisruptHR Toronto 6.0 Sponsors!