DisruptHR Topeka (KS, USA) will be held on Thursday, November 21, 2019, at The Foundry Event Center and we're excited to announce an awesome lineup of speakers for their 1st DisruptHR event!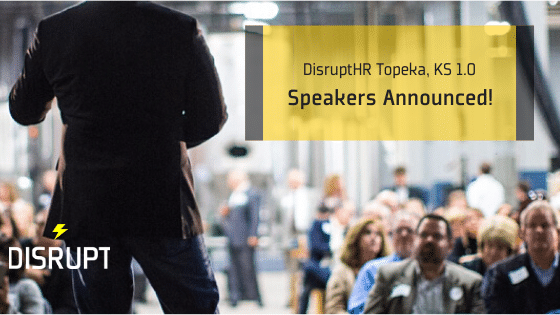 Burton Kelso / @BurtonKelso — Chief Tech Expert at Integral
"Its a Trap! 3 Ways to Prevent Your Employees From Inviting Cyber Criminals Into Your Business"
Dr. Charlie Cartwright / @pplsuccesslabs — CEO of People Success Labs
"Measuring the Immeasurable"
Jessie Jacob / @jessiejacob730 — Managing Director at CoreBuild
"Culture – It's a Vibe"
David Villanueva — Manager, Employee Relations at Stormont Vail Health
"Best Practices for Diversity and Inclusion"
Michelle Kosmacek — Org Effectiveness and Culture Consultant at Waddell & Reed
"Building Culture in the Moments"
Lora Cheadle / @LifeChoreo — Life Choreographer at Life Choreographer
"Overcoming Diversity Fatigue"
Todd Sutcliffe / @NATSB — CEO of National Screening Bureau
"Words From Rafiki: The Best Predictor of Future Behavior is Past Behavior So Let's Stop Using Outdated Hiring Techniques."
Timm Collins — Founder of Momentum Leadership Consulting
"Soft Skills Have a Hard Impact"
Kristen O'Shea — Organizational Development Consultant at O'Shea Strengths Coaching
"Encore Career: Change Your Story About Aging and Retirement"
Jenalea Randall — Philantrophy Officer at Kansas Childrens Service League
"Strong Families Build Strong Businesses"
Mike Henke — Owner of Mike Henke Inc
"How Is That Okay?"
Dr. Paula Daoust — Director of Workforce and Leadership Development at Blue Cross Blue Shield of KS
"Anxiety and Depression in the Workplace: It's More Than a Personal Issue"
Eric Turner — Associate Attorney at Foulston Siefkin
"Pro's and Con's of Arbitration Events"
Thanks to DisruptHR Topeka 1.0 Sponsors!