DisruptHR St. Louis (MO, USA) will be held on Wednesday, May 23, 2018, at Helium Comedy Club and we're excited to announce an awesome lineup of speakers for their 2nd DisruptHR event!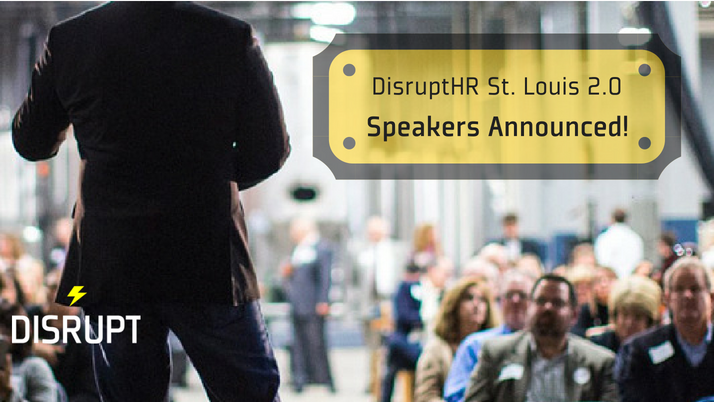 Adam Berkowitz / @AEBerkowitz — Founder & President of Simpara
"Restoring The American Dream: How To Deliver World Class Health Care To Your Employees At Half The Cost"
Melissa Jones –Director, Health & Benefits at Willis Towers Watson
"Future of Work"
Martin Lanik / @MartinLanik — CEO of Pinsight
"Get Ready To Lead – In Just Minutes A Day"
Scott Avery — Fire Chief of City of Olivette
"Are You Ready For An Emergency?"
Kendra Elaine / @MsKendraElaine — Millennial Leadership Expert and Diversity Coach at Kendra Elaine
"Motivating Millennials – The HOW You've Been Missing"
Sarah Davidson — Human Resources Manager at Roselein & Associates, Inc.
"Let's Talk About Numbers Baby…"
Fred Melkey — Director, EEO & Affirmative Action at Emerson
"Artificial Intelligence And Big Data In HR"
Lisa Yankowitz / @lisayankowitz — Workplace Educator at Informed Workplace/Ntrinsx
"A Culture Of Respect. Right… And Purple Unicorns."
Jake Bernstein / @JakeBernstein21 — Senior Business Development Manager at Bonfyre App
"Balancing Technology, Organizational and Personnel Changes Impacting Your Workforce Every Day."
Barry Engelhardt — Human Resource Generalist & Recruitment Manager at 1st Choice Delivery
"Disconnect Between Talent Acquisition & Veteran Talent"
Elizabeth Haberberger — President of Dale Carnegie Training of St. Louis
"Growth Enemy #1: Your Comfort Zone"
Jim Paul / @JimPaulAtty — Shareholder of Ogletree Deakins
"DISRUPTING The Animal In ALL of Us!"
 Thanks to DisruptHR St. Louis 2.0 Sponsors!