DisruptHR Spokane (WA, USA) will be held on Thursday, September 26, 2019, at The District Bar & Grill and we're excited to announce an awesome lineup of speakers for their 2nd DisruptHR event!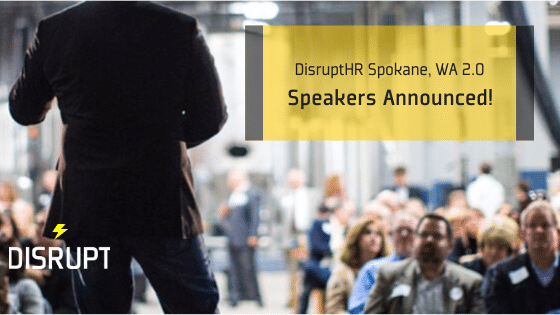 Sinead Voorhees — MBA Director at Whitworth University
"The Persistent Rash That Won't Go Away – Millennials"
Tom Simpson — Co-Founder of Ignite Northwest
"20 Lessons from 30 Years of Investing Startups"
Brady Cass — President of Asuris Northwest Health
"Addicted to the Now"
Eric Schack — Vice President of Sales Development at HUB International
"Now I Know Why I Don't Like You"
Jaci Reed — Senior Consultant at Transcend
"Not Your Grandpa's Strategy"
Jeff Perry — Owner of More Than Engineering
"Dear HR: The Letter From Engineering You Thought You Would Never Get"
Gloria Ochoa-Bruck — Director of Local Government and Multi-Cultural Affairs at Spokane City
"Felon Friendly Employers: Criminal Record? You Can Work With That"
Dan Fisher — Senior Vice President of HUB International
"The Best Employer Sponsored Health Plan Ever"
Gordon Ritchie — Principal at INWorkHR
"No hable Espańol?"
Thanks to DisruptHR Spokane 2.0 Sponsors!