DisruptHR Sioux Falls (SD) will be held on Tuesday, May 14, 2019, at Summit Events Hall and we're excited to announce an awesome lineup of speakers for their 3rd DisruptHR event!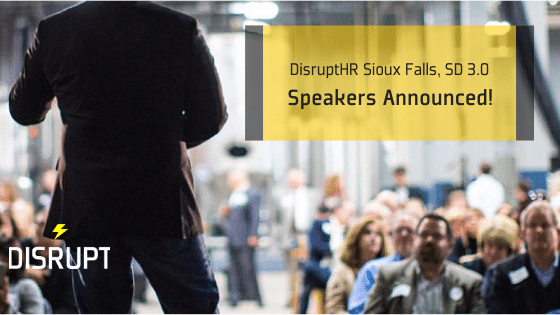 Wendy Dailey / @wyndall93 — Talent Advisor at Sanford Health
"Pick Your Noes: Prioritizing In Today's World"
Cory Jorbin / @CJorbin — Chief Compliance Officer at Hub International
"Plan Documents Suck & We All Know It"
Patricia Dougherty — CEO of The Weston Group
"I'm HR – Not Your Attorney"
Liz Carlson — Higher Ed. Instructor at University of Sioux Falls
"Playground Rules Of Effective Communication"
Jared Thomas — Leadership Development Specialist at Sanford Health
"3 Benefits to Hiring a Military Member"
Kristy Jungemann — Sr. Manager-Talent Optimization at Tyson Foods
"Innovation for Dummies…The "No-Brain" Ways That Lead to Corporate Innovation"
Joshua Robinson — CIO at Sanford Health
"Critical Mass Of Chaos"
Mike Henke — Owner of Mike Henke Inc.
"Mentoring- Develop the Next Wave of Leaders!"
Britney Cole / @BritneyACole — Director of Innovation
"Stop Buzzwords, Start Application"
LaToya Lyn — Head of Global HR at LivePerson
"Wake the F Up! Hip Hop Culture Is Taking Over HR"
Rachel Gackle — Employee Benefits consultant at Marsh & McLennan Agency
"If You're Reading This, You're Already More Engaged Than 66% of Your Employees"
John Meyer / @johntmeyer — CEO and Co-Founder of Lemonly
"From Memo to Magic: Upgrade Your Internal Communications"
Thanks to DisruptHR Sioux Falls 3.0 Sponsors!