DisruptHR San Francisco (CA, USA) will be held on Tuesday, April 30, 2019, at Dominico Winery and we're excited to announce an awesome lineup of speakers for their 5th DisruptHR event!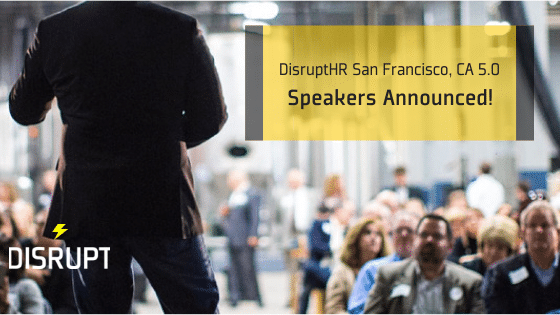 Josh Bersin — Global Industry Analyst at Bersin Partners
"The Simply Irresistable Organization"
Albert Qian / @albertqian — Founder of Albert's List
"It takes a village: How Communities facilitate Careers"
Greg Silva — VP, People and Culture at TextNow
"Pay to Quit. A bold strategy to elevate commitment and engagement"
Kelley Steven-Waiss — EVP, CHRO at Here Technologies
"How to build a GIG economy inside your workplace"
Susan Sanders — HRConnect365
"Real HR for Humans: Creating the modern employee experience"
Shreya Sarkar-Barney / @sarkarbarney — CEO, Founder of Human Capital Growth
"Why Hopium is killing HR"
Luca Rosetti / @luca_rosetti — CEO, Chairman at Beaconforce
"3 Reasons why HR will not survive the next generation without A.I."
Vlad Coho / @VladCoho — VP, Experience & Engagement at Automation Anywhere
"How agile product management flipped "employee engagement" upside down"
Robert Brown / @robthbrown — AVP, Center for the Future of Work at Cognizant
"What to do When Machines do Everything: 21 (More) Jobs of the Future"
Thanks to DisruptHR San Francisco 5.0 Sponsors!