DisruptHR Rochester (NY, USA) will be held on Tuesday, May 9, 2023, at The Strong National Museum of Play and we're excited to announce an awesome lineup of speakers for their 3rd DisruptHR event!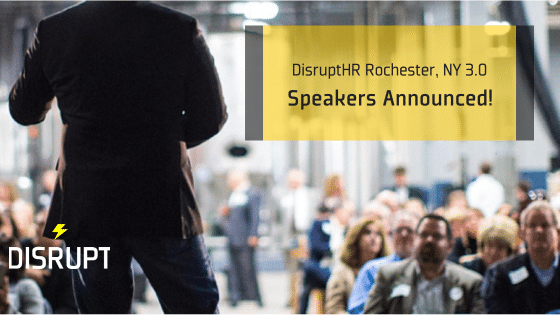 Adrian Hale — Director, Economic & Community Development and Director, Foundry Deploy at Foundry
"Employability: When Business Steps Up!"
Cory Raggi — Chief Operating Officer at RDG+Partners
"The Edge of Optimism"
Hernan Pablo Chiosso — Product and People Leader. HR Innovation Consultant.
"Fire your Stars"
Adrienne Schleigh — Senior Director, HR Strategic Placements at HR Works
"Putting the HUMAN back in HR: Balancing Compliance and Compassion"
Alana Barend — Talent + DEI Manager at Partners + Napier
"Fear, Resistance, and Lizzo"
Evelyn Parker — Director, Diversity, Equity & Inclusion at Stride Inc.
"Small Changes. BIG Wins!"
Jona Wright — Chief Human Resources Officer at CPL
"Designing the Human (Resource) Experience: What Does It Feel Like To Be on the Other Side of You?"
Meaghann Schulte — Executive Director of Communications & Co-Owner of GreenSpark Solar
"Work Hard, Rest Harder: A Path to Wellness Week"
Sean Bengry — Managing Director at Tata Consulting Services
"Humans vs. Machines: Who's Learning Who in the Digital Age?"
Lori Sussle Bonanni — Founder and Communications Consultant at elssus, LLC
"How are you excluding the best person from the job?"
Izzy Levin — Instructional Designer at eCornell/Cornell University
""I Really Don't Want to Be Here": A Radical Approach to Corporate Training"
Thanks to DisruptHR Rochester 3.0 Sponsors!