DisruptHR Richmond (VA, USA) will be held on Wednesday, September 27, 2023, at VCU School of Business Atrium and we're excited to announce an awesome lineup of speakers for their 4th DisruptHR event!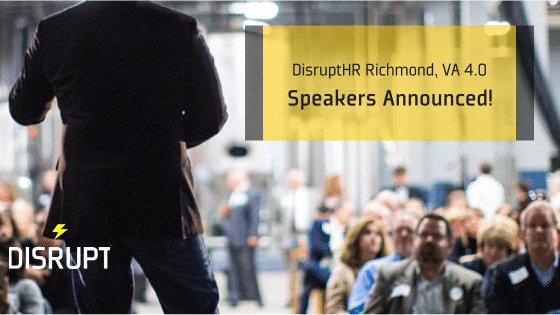 Amy Kocev — Learning and Development Manager at The LEGO Group
"All Work and No Play…"
Melanie Dorion — Founder and Medical Director at Be Vital Health Center
"Bringing 21st Century Medicine to the Workplace"
Kimberley Lewis Parsons — Founder and CEO of Bamboo Teaming
"Take It To the Team: The Next Frontier of Integrating Inclusion Into the Way We Work"
Kelley Powell Williamson — Chief Growth Officer at Wellist
"Employee Wellbeing: Take The Stigma Out Of Asking For Help To help me is to know me"
James Wasilewski — Coach and Comedian at Haha to Aha | The Unconventional Fundraiser
"A "YES, AND" Culture (and more)"
Steve Perkins — Founder + CEO of Greenhouse Coaching
"The Surprising One Thing"
Heather Turbyn-Pollard — CEO of Circle Center Adult Day Services
"The Hidden "E" in DEI"
Gloria Gravlin — Director Social Mobility at Capital One
To Be Announced
Suzanne Burns — Founder and CEO of Humbel Haven Yoga
"Centering Humanity in the Workplace"
Alexa Honeycutt — Student at Liberty University
"HR Analytics: Transforming the Workplace. -To Love Your Employees Is To Understand Them"
Kathy Claytor — VP CHRO Delta Dental Va at Delta Dental
To Be Announced
Thanks to DisruptHR Richmond 4.0 Sponsors!