DisruptHR Reno (NV, USA) will be held on Thursday, August 25, 2022, at New West Distributing and we're excited to announce an awesome lineup of speakers for their 4th DisruptHR event!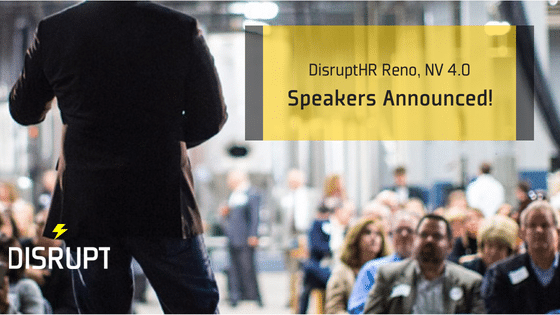 Grant Denton — Executive Director at Karma Box Project
"Mission Minded"
Daniel Marecki — On-site Manager at Staffmark
"Culture Development: Learning Your Employee's Personality to Maximize Potential"
Timothy Abousselman — Sr. Director of Operations  at ITS Logistics
"Lead like your are being Yelped!"
Zelalem Bogale — Denior Attorney at NV Energy
"Resisting History to Mitigate Bias"
Michaelangelo Aranda — Learning & Development Partner at Clear Capital
"First Impressions Can't Change! (Why Employee Onboarding Matters)"
Daniel Vent — Founder & Principal Recruiter at Intraview
"Science of Motivation"
Rob Dubin — Happiness Teacher at RD Creative
"Disrupting the Great Resignation"
Jill Dobbs — Executive Director at SPCA of Northern Nevada
"How to Cultivate Your Unicorn Workplace"
Frank Pereria — Managing Partner at Coleman Consulting Group, LLC
"Flexible Schedules are the New Signing Bonus"
Liimu McGill — Founder & CEO of Beloved Enterprises
"Soul-Centered Leadership"
Mike Micone — CEO of Micone Staffing Resources
"Engaging the Contingent Workforce"
Thanks to DisruptHR Reno 4.0 Sponsors!