DisruptHR Reno (NV, USA) will be held on Thursday, August 15, 2019, at New West Distributing and we're excited to announce an awesome lineup of speakers for their 2nd DisruptHR event!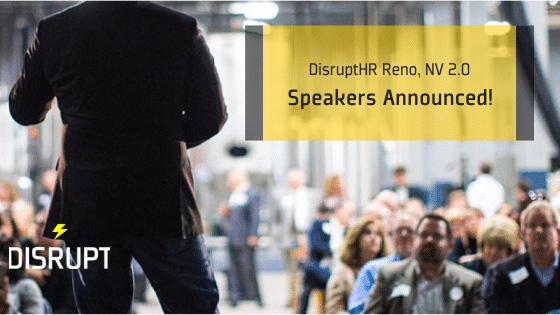 Alexanne Stone / @AlexanneStone — Owner of AlexanneStone.com
"Body Language, Myths & Magic – The Unnoticed Language of Leadership"
Bryce Warner — Employee Benefits Consultant at Employee Benefits Consultant
"It's All About the Experience…. Or is it?"
Danny Heinsohn / @dannyheinsohn — Chief Inspiration Officer at For A Reason, LLC
"Premission Affect"
Dom Sinnott / @craicshack1 — Deputy District Attorney at Lyon County District Attorney's Office
"Pheromones and the Microbiome: Our Biology and the Workplace"
Grant Denton — Operations Manager at Downtown Reno Partnership
"What's in Your Karma Box?"
Kay Salerno / @KayAndShi1 — President of Squeeze In and Shi Morris / @KayAndShi1 — Vice President of Squeeze In
"Bridging the Generational Gap"
Kelli Tampio — Financial Advisor
"Reclaim Your Time: How to Delegate Like a Boss"
Kevin Ciccotti / @Coach_KevinC — President of Human Factor Formula, Inc.
"The 3 Values of Great Leadership"
Lauren Yurick — Agency President & West Regional Sales Leader at AssuredPartners
"Nobody Needs a Safe Space!"
Teresa Marzolph / @Culture_Ngineer — Founder of Culture Engineered
"The Sound of a Silent Culture – Why It's Alarming When Employees Stop Talking"
Yutaka Takagi — HCM Technology Manager at Ultimate Software
"3 A's to Your Championship"
Thanks to DisruptHR Reno 2.0 Sponsors!