DisruptHR Orlando (FL, USA) will be held on Wednesday, March 27, 2019, at EA Sports and we're excited to announce an awesome lineup of speakers for their 6th DisruptHR event!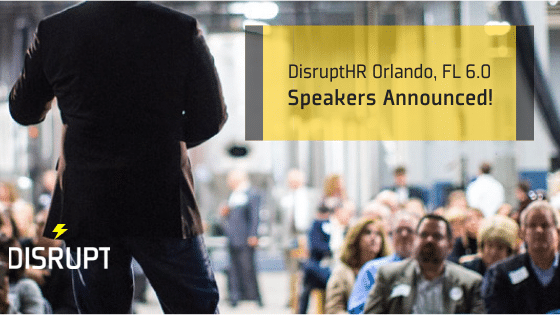 Dr. Erica Martin — Organizational Development and Training Advisor at Orange County Government
"You Are Not a Fraud: Battling Impostor Syndrome"
David Miklas — Employment Discrimination Attorney at Law Office of David Miklas, P.A.
"How HR Can Keep The Employment Lawyer Costs Reasonable?"
Kevin E Phillips /@Phillips_KevinE — Author/Speaker at Kevin E Phillips LLC
"It's NOT The Thought That Counts!"
Amanda Brunson /@TheHRPanda — HR Generalist
"KISSES, HR"
Daniel Botero — Partner at First Degree Partners
"What If You Spent The Same Amount Of Time Planning Your Career As You Do Planning Your Vacation?"
Adam C. Zern /@AdamCZern — Sr. Advisor, Organizational Effectiveness & Learning at CVS Health
"Our Living Resume"
Christopher Littlefield /@AckWorks — Founder of AcknowledgmentWorks
"Stop Complicating Employee Recognition, Here is How We Make it Simple Again!"
Carrie B Cherveny — Senior Vice President, Strategic Client Solutions; Chief Compliance Officer, Employee Benefits Southeast
"Thought You Were In HR And Not Sales? Whoops. Surprise!"
Thanks to DisruptHR Orlando 6.0 Sponsors!