DisruptHR Orlando (FL, USA) will be held on Thursday, August 3, 2023, at Rollins College and we're excited to announce an awesome lineup of speakers for their 14th DisruptHR event!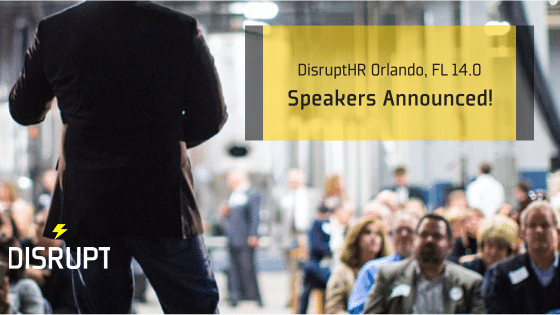 PJ Spelios — Head of HR at Stax
"Changing the Face of HR"
Janine Krokey — HR Director at Marine Fasteners
"Pizza Parties Are Not Engagement"
Mindy Corporon — CEO of Workplace healing
"Leading Through Grief"
Jonathan Pugh — Retired
"Next Gen HR: Moving Beyond the Traditional HR Mindset to Authentic Leadership"
Andy Andrews — Financial Planner at Andy Andrews Financial Planning
"Translating Employment Law Changes"
Melissa Severance — HR Consultant at Inspire Big Dreams
"Retaining Top Talent: Retention Strategies"
Brandi Garrettt — Head of HR at Civix
"Back to School: Back to Basics Communication from HR"
Kamaria Scott — Consultant at Enetic
"Lessons for Leading Change from a Military Brat"
David Miklas — Founder of Law Office of David Miklas, P.A.
To Be Announced
Michael Gorritz — Founder of Organizational Effectiveness
"The Autonomous Employee"
Corey Jordon — Head of Growth at Erudit
"AI for Employee Experience"
Paz Criado — Managing Director at Fieldpoint
"Finance for Dummies"
Rebecca Schulte — Head of HR at Dean Mead
"Doing the Break Teambuilding"
Thanks to DisruptHR Orlando 14.0 Sponsors!