DisruptHR Omaha (NE, USA) will be held on Thursday, August 4, 2022, at The Old Mattress Factory Bar & Grill and we're excited to announce an awesome lineup of speakers for their 3rd DisruptHR event!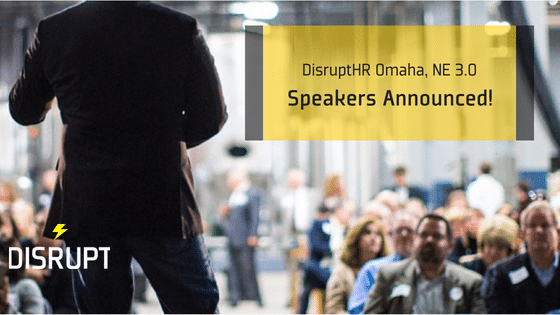 Cara Kirsch / @kirsch_cara — Area Vice President at Gallagher
"Are your employee benefits aligned with your cultural inclusion policies?"
Shayna Robinson, SHRM-SCP / @How_to_HR — HR Business Partner & Owner of How to HR
"Your Guide to A Better Workplace: Inclusive Workforce Planning"
Alberto Garcia-Jurado — CEO of InZynch
"Moving Beyond Culture: A TRULY disruptive step toward the evolution of HR Operations"
Meaghan Walls / @MeaghanFWalls1 — President & CEO of Assistology, LLC
"No Diversity Without Disability"
Jeanne Hogan — Vice President of Growth at Listo Global
"The Hottest Trend in Hiring – Harnessing the Global Workforce"
Burton Kelso / @BurtonKelso — Chief Technology Expert at Integral
"Want to Make Your Tech Workforce Better? Start with Inclusive Recruiting"
Jared Meays / @aMeaysZy — Employee Benefits Advisor at Holmes Murphy & Associates
"You Don't Have to Choose Between Health and Wealth"
Thanks to DisruptHR Omaha 3.0 Sponsors!