DisruptHR Omaha (NE, USA) will be held on Wednesday, April 25, 2018, at DC Centre and we're excited to announce an awesome lineup of speakers for their 1st DisruptHR event!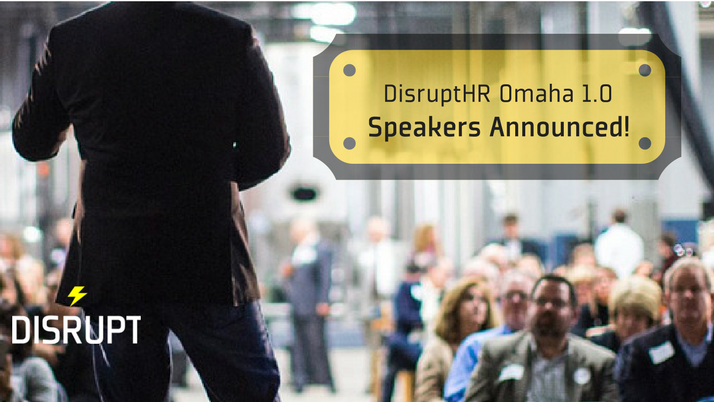 DisruptHR Omaha 1.0 Speakers
Nicole Bianchi / @NicoleMBianchi —Partner at Bravium
" It's Ok To Get Fired Once In A While"
Dr. Charlie Cartwright / @IAmTheHealer — CEO of People Success Labs
"Measuring The Immeasurable"
Wendy Dailey / @wyndall93 — HRBP at South Dakota State University
"Let's Get Social"
Brett Hoogeveen / @BrettHoogeveen –Co-Owner Mindset, Director QLI atMind Set
"CULTURE: Why Are We Making This So Hard???"
Andy Neary –Healthcare Strategist at The Olson Group
"One Pitch Every HR Professional Needs To Strike Out The Status Quo"
Jason Lauritsen / @JasonLauritsen — Keynote Speaker, Author, and Consultant at JasonLauritsen.com
"Fixing Work With The Relationship Test"
Annamarie Mann — Independent Consultant 
"Too Burnt Out To Lead"
Theresa Nordstrom — Executive Recruiter at Nordstrom Talent
"Ditch The Dull Cookie Cutter Job Ads & Start Attracting Talent"
Pasha Ostby / @OstbyPasha — Human Resources Professional Services Advisor at TEAM Software
"Breakin' Up Is Hard To Do, Say Goodbye To Your Performance Reviews"
Stephanie Sands — Human Captial Strategist at SOLVE
"The Pitfalls Of Overdoing Your Strengths"
Lona Smart / @smartlona — Facilitator – Organizational Behavior Specialist at Revela
"Collaboration And Corporate Silos: Applying Lessons From Game Of Thrones"
Craig Spilker / @Just_Spilk — Chief of Strategy at AMPT
"How Employee Recognition Alone Can Change Your Workplace Culture Forever"
Beth Swinney / @beth_swinney –Senior Learning and Development Consultant at ACI Worldwide, Inc
"Positive, Negative Or Neutral"
Elena Valentine / @Elena_Valentine — CEO of Skill Scout 
"Meet Dick And Jane: Your Stock Photo Employees Are Lame"
Keith Wilbur — Sales Executive at ADP
"Activating Talent"
Anne Thompson — Chief Visionary Enthusiast at Healing Spirit
"Change The World. Start With YOU"
Thanks to DisruptHR Omaha 1.0 Sponsors!