DisruptHR Oklahoma City (OK, USA) will be held on Wednesday, October 9, 2019, at Will Rogers Theatre and we're excited to announce an awesome lineup of speakers for their 4th DisruptHR event!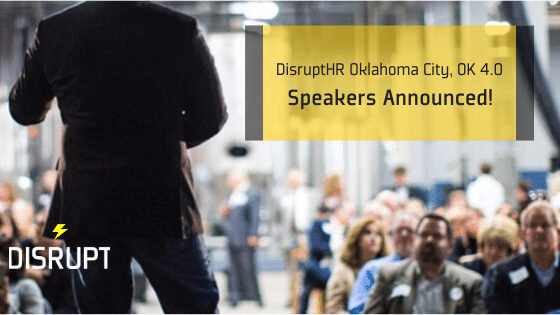 Lisa Qualls / @lissaq79 — CEO of Clarity, LLC
"It's Time to Invest in You!"
Melissa Archer, MHR/MBA — Senior Business Development at Savile Row Land & Title
"Choosing Your Adventure: Non-Traditional Hiring"
Burton Kelso / @BurtonKelso — Chief Tech Expert at Integral
"Social Media is Not Building Your Business or Making You Friends"
Jason Albaugh / @JasonAllbaugh — Regional Director of Talent Management at Cornerstone Home Lending
"Why You Shouldn't Hire Vets"
Diana Rogers Jaeger, APR, M.Ed. / @love2appreciate — Culture Champion & Strategist at Love To Appreciate Consulting
"Your "Thank You" Sucks"
Jared Pope — Founder/CEO of Work Shield
"F$@& the Mad Men & The "Misogynistic" Horse They Rode In On!"
Ryan Barnett — VP of Retirement Services at Heritage Retirement Plan Advisors
"Broke is the New Normal"
Paula Williams / @williamspaula — Attorney/Shareholder at GableGotwals
"Making the Best of the Breakup"
Amber Vanderburg / @VanderburgAmber — Organizational Development Ninja at Paradigm Shift
"Leading Change as the Newbie"
Kyle Killingsworth — Founder/Principal at Catalyst Consultant Group
"Hey HR! What are You Afraid of?"
"What Have You Done for You Lately?"
David McLaughlin / @fullvolumedev — Asst. VP, Corporate Training at American Fidelity
"Turn the Page: Is That a Woman or a Man?"
Lyndi Zavy / @whateverlexy — VP of Organizational Development at OptionOne
"Counterbalance: Confessions of a Flipped Stroller"
Tim Hast / @TimHast — Connoisseur of Organizational Culture at Encore Life Skills, LLC
"A Pastry-Chef's Recipe for a Healthy Culture"
Thanks to DisruptHR Oklahoma 4.0 Sponsors!