DisruptHR Oklahoma City (OK, USA) will be held on Wednesday, October 17, 2018, at Will Rogers Theatre and we're excited to announce an awesome lineup of speakers for their 3rd DisruptHR event!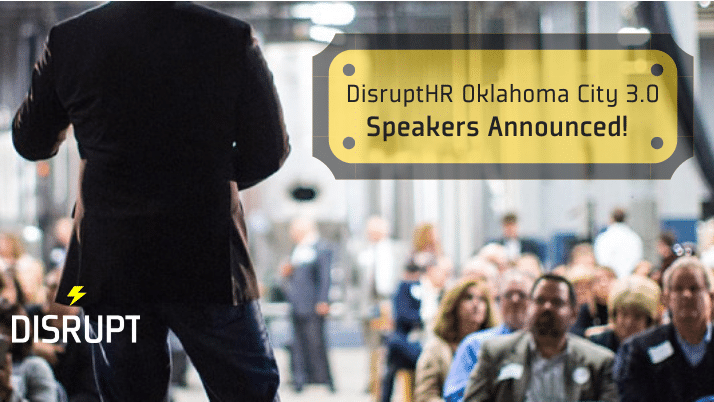 B.J. Glover  — Diversity Queen, Public Speaker, Leadership Consultant
"We're So Fake about Diversity & Inclusion!"
Marie Pijanowski / @mariepijanowski — Industry & Business Consultant at Metrotech
"What's Up with YOUR Engagement?"
Mike Shaw / @HR2CEO — Performance Enhancing People Person at Muscogee Staffing Solutions
"Chosen: Adopting Life Lesson on Employee Engagement"
Jilian Larimore / @Jilw1L — Executive Director at Impact Oklahoma
"Want Major League Talent? Build a Development League."
Dallas Ensley — Master Troublemaker, People Systems at Sonic Drive-In
"Your HR Technology Projects Will Fail"
Kelli Adams /@PsaAdvisors — Consultant at People Strategy Advisors
"Build Your Own Seat at the Table (It's easier than putting together IKEA furniture!)"
Cory Jorbin /@CJorbin — Chief Compliance Officer, West Region at HUB International
"Thought You Were in HR and Not in Sales? Whoops. Surprise!"
Bruce Waller /@BruceWaller — Vice President, Corporate Relocation at Armstrong Relocation and Companies
"Find Your Lane: Change Your GPS and Drive with Purpose!"
Jennifer Fondrevay /@jjfondrevay — Chief Humanity Officer at Day1Ready
"Confirm You Are a HUMAN"
Tiffany  Gamblin, SHRM-SCP /@mommagamblin — HR Manager at Paycom
"How to be a Hugger in HR"
Jason Jones /@DrJasonJones — Vice President, Leadership Development at Strata Leadership
"Maslow was Wrong: What the New Science of Motivation Teaches Us About Meaningfulness and Engagement"
Thanks to DisruptHR Oklahoma City 3.0 Sponsors!