DisruptHR Los Angeles (CA, USAy) will be held on Thursday, October 3, 2019, at Haworth and we're excited to announce an awesome lineup of speakers for their 6th DisruptHR event!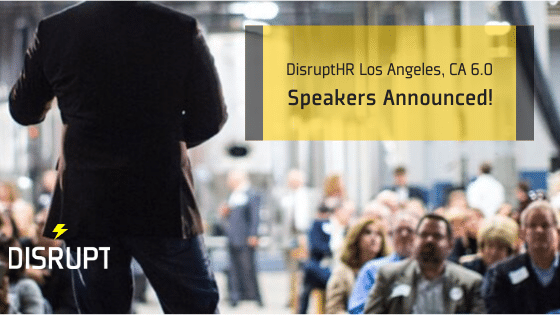 Alan Fluhrer / @AlanFluhrer — Talent Acquisition Manager at W. E O'neil Construction
"What Hiring a Director of Embalming Taught Me About Hiring With No Budget"
Caitlyn Stetson — Co-Founder of MACHT Project
"Radical Inclusion & Social Impact"
Clark Souers / @ExpertEffect — Human Resources Consultant at Expert Effect
"Leadership Strategies For Transforming Our Employees Into Fans"
Heerva Macwan — Senior HR and Compliance Manager
"How Startups Can Be So F*ed Up"
Heidi Pancake / @PancakeHR — Seniro Director HR at The Bouqs
"Slay Your Personal Life So Your HR Job Doesn't Suck"
Isabelle Hertz / @IsabelleHertz — Consultant at Threshold Limited
"Curbing The Gossip"
Jan Ginsberg — VP Human Resources at Internet Brands
"Unicorns and "Top Talent"…. Things That Don't Exist"
Jane Garza — Organizational Designer at NOBL Collective
"What Is Your HR Legacy"
Lori Gentles / @GentlesLori — Cheif People Officer at The Choice Company
"Employeeship – The Path To Leadership"
Shannon Duggan / @perky_work — Co-Founder of MACHT Project
"Radical Inclusion & Social Impact"
Micheal Braun — HR Leader
"Are We Siblings Or Teammates? How We Belong At Work"
James Kinney / Director of People at Giant Spoon and Co-Founder of DisruptHR LA
"Building A Culture Of Courage"
Lee Chernotsky — CEO and Founder of Rosies Foundation
"Accessible By Design"
Jackie Craw — Sr. Manager of Human Resources at PUBG Corporation
"When Playing at Work is Mandatory"
Danny Speros / @DannySperos — People Business Partner at Zenefits
"Embrace the Suck. Tough Conversations at Work"
Thanks to DisruptHR Los Angeles 6.0 Sponsors!