DisruptHR Los Angeles (CA, USA) will be held on Wednesday, September 26, 2018, at Haworth and we're excited to announce an awesome lineup of speakers for their 4th DisruptHR event!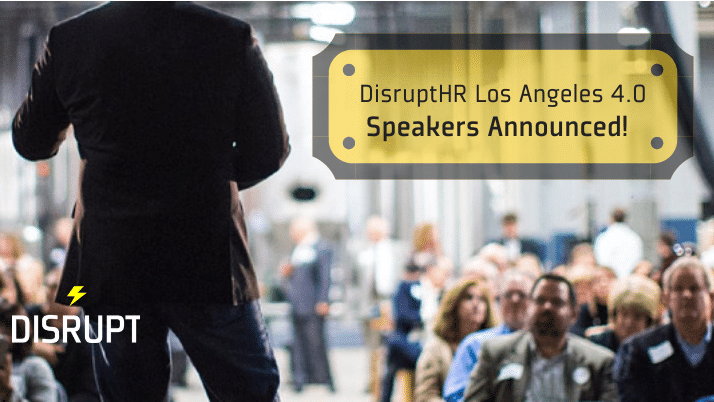 Cheryl Bonacci — Chief Inspiration Partner at Creative Acts
"Don't Throw it Out. Hiring Beyond the Background Check"
Esther Weinberg — Founder & CEO of MindLight Group
"The Dignity Zone: Bringing the #1 Secret to Transform Any Organization Into the Ultimate Workplace"
Steve Feyer — Director of Product Marketing at Eightfold.ai
"We Are in a Talent Crisis. We Can Solve It."
Tamara Jahelka — HR Consultant and Author
"Manage to be the Vitner of your Workplace"
Evan Swan — Director of Talent Solutions at TalentGuard
"Employees Want to Leave. Help Them Get There"
Stacey Broadwell — CEO of LAXTech Recruit
"Need a Recruiter? Hire a Marketer"
Tina Robinson — CEO of WorkJoy
"Reclaim Your Identity"
Yutaka Takagi — Manager, HCM Technology at Ultimate Software
"The 3 A's to Your Championship"
Belinda Morris — President & Founder of Peoplescape Consulting Group
"Political Correctness is a Safe Way Out, but Won't Fix Workplace Confusion about Gender."
James D. Pollerana — Corporate Development Manager at Movember Foundation
"#DadReputation"
Jay Jackson — Founder of The Galaxy Group
"Destroying the Misconceptions About Military Veterans"
Michelle Clark — Senior Vice President, Health and Performance HUB International
"The Power of Purpose – Stop Sucking the Life Out of Your People"
Thanks to DisruptHR Los Angeles 4.0 Sponsors!