DisruptHR London (UK) will be held on Tuesday, December 3, 2019, at Floripa and we're excited to announce an awesome lineup of speakers for their 14th DisruptHR event!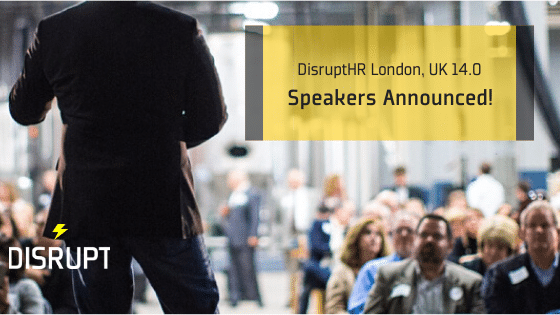 Sue Ingram / @sueingram — Author, Facilitator & Coach at Converse Well
"Toxic Bosses – The Cancer Of Our Workplaces"
Nathan Calland — Leadership Consultant at DDI
"Leadership Purpose – The Value In Helping Me See Why"
Lilian Oke / @LilianOke — Field Marketing Manager at Indeed.com
"Enough talk! It's Time for Action D&I"
Ken Ward / @kward69 — Head of Talent at ProArch
"Recruitment Isn't Broken"
Alicia Medlicott — Head of People at Arbor Education
"Start-up To Scale-up: Establishing People Processes in a Fast Growing Company"
Irena Cabarkapa / @eatic4 — HR Manager at Magmell Studio
"HR & IT: A Story Of Hate & Love"
George Bell — Co-Founder of on:song
"Don't Talk To Me About My Comfort Zone"
Alex Stephany / @AlexStephany — Founder and CEO of Beam
"Tech for Good: How You & Your Company Can Make a Measurable Impact"
Jacky Gerald — EAP Consultant at Acacia Connection
"Increasing the Uptake of Psychological Services By Men In the Workplace"
Dave Rolfe / @Drolfe_HCM — Account Executive at CoreHR
"How Punk Is Your HR?"
David Ferns — SMB SDR Team Lead at Reward Gateway
"Rebellious Wellbeing"
Jordan Nicholas — HR Development Advisor at Transport for London
"You Know What To Do, So Why Don't You Do It?"
Ian Pettigrew / @KingfisherCoach — Director & Coach at Kingfisher Coaching
"Hero"
Thanks to DisruptHR London 14.0 Sponsors!