DisruptHR London (UK) will be held on Tuesday, September 10, 2019, at Cargo and we're excited to announce an awesome lineup of speakers for their 13th DisruptHR event!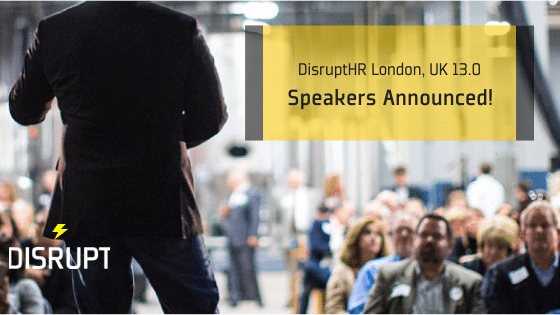 George Dalton — Learning & Development Consultant at Reward Gateway
"Let's Get Over Ourselves and Wave Goodbye To The Company Induction!"
Laura Wilkinson — Head of People at Verv
"HR: It Isn't Copy And Paste!"
Jill Breingan — HR Director at GE Fieldcore
"Employment Rights – Who Needs Them?"
Dino Blanco-Ioannou / @lessonsinself — Founder of Lessons-In-Self
"BHRnout – The Who, The What And The Why Of Burnout"
Garry Turner / @garryturner0 — Human-Centred Working Advocate at IMCD N.V.
"The ROI On Humanity"
Glenn Martin / @GlennNetworks — Project Manager Talent Acquisition at Instanda
"Why Is It So Tough Hiring For Hyper-Growth Companies?"
Sasha Arabadji /@ABA_TraitOnline and Winnie Frimpong / @ABA_TraitOnline — Work Psychology Consultants at Aston Business Assessments
"Shifting Gears: Moving From Manual to Automatic"
Chris Pinner / Founder of Innerfit
"WTF It's My Job To Keep People Healthy and Happy?!"
Ross Broome — Head of Talent Acquisition at Collinson
"Don't Chew An Agile Elephant"
George Bell — Co-Founder of on:song
"Don't Talk To Me About My Comfort Zone"
Laurence Pintenat — Strategic Account Manager at DDI
"Talent Decisions: Bad News For Robots"
Dov Zavadskis / @DovZavadskis — Independent Talent Sourcer
"Sourcing, That's Procurement, Right? Err, No."
Ferenike Kantartzi — Account Manager at Freeformers
"Why HR Directors Should Play More Beach Volleyball"
Richmond Stace / @painphysio — Specialist Pain Physiotherapist, Pain Coach & Social Entrepaineur at www.understandpain.com
"It's Time For Something New: TouchHR!"
Thanks to DisruptHR London 13.0 Sponsors!