DisruptHR Lima (Peru) will be held on Thursday, February 20, 2020, at Centrum Pucp and we're excited to announce an awesome lineup of speakers for their 1st DisruptHR event!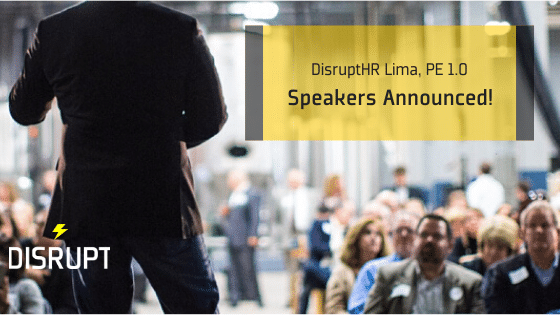 Veronica Rendón — Líder Comercial / Consultora de Negocios en Mercer
"El futuro del trabajo"
Rocio Rodriguez — Gestión del Talento, Recursos Humanos, HR Business Partner, Coach, Atracción del Talento
"Encuentro de dos mundos: La convivencia de la tecnología con lo humano en la organización"
Alejandra Segura — Diversidad e Inclusión en Telefónica del Perú
"Que el privilegio no te nuble la equidad"
Daniel Castro — CEO de Nexus Sinergia & Legalres
"Liderazgo Adaptativo para maximizar el potencial del equipo de trabajo"
Susan Hurtado Arias — Consultor en gestión del talento humano en TDT – ADEPP
"Empezando un nuevo empleo: Expectativas versus Realidades"
Alejandra Leo — Jefe de Escuela de Banca y Negocios en Instituto SISE
"Cambia, que te cambian"
Jessica Mulatillo — Coordinadora en Programa Trasciende Lima 2019
"Disrupción de RRHH en el estado. ¿Es posible?"
Marcelo Pimentel — Investigador Docente en Centrum PUCP
"Get really creative solutions using mindfulness"
Thanks to DisruptHR Lima 1.0 Sponsors!