DisruptHR Lansing (MI, USA) will be held on Thursday, October 21, 2021, at UrbanBeat and we're excited to announce an awesome lineup of speakers for their 2nd DisruptHR event!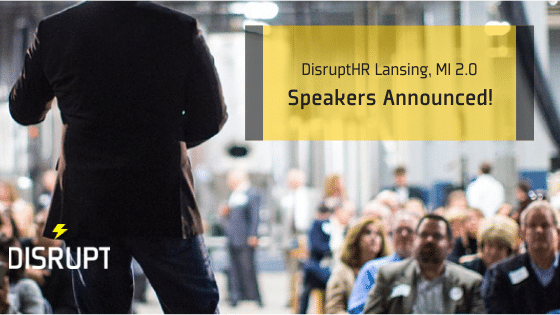 April-Callis Birchmeier / @aprilcallis — President/CEO of Springboard Consulting, LLC
"Are you READY to Simplify Change?"
Brian Town / @michcreative — CEO of Michigan Creative
"Advertising for Talent hasn't Changed in 50 Years"
Doug Roehm — President of Strategic Services Group
"The Definition of Insanity"
Greg Modd — Principal Consultant at Penultimate People Consulting
"Trenches of HR: Troopers Enlist"
Jen Laidlaw / @JALaidlaw0213 — Owner of TeamWerks LLC
"Are Your Company Values More Than Just Some Words on a Mousepad?"
Julia Keider — Faculty Developer at Baker College
"Gen Z: Your New Talent Pipeline"
Justin Caine — CEO of Beyond Our Barriers / Good Fruit Video
"Your Company's IEP"
Kat Hoyer / @kat_hoyer — CEO/Managing Partner at SYLC Consulting
"Holistic Workplace Development: Woo Woo, Woke or Warranted?"
Tim Sackett / @TimSackett — President of HRU Technical Resources
"The Future of Work? Adulting"
Tina Marie Wohlfield / @TMWohlfield — Chief People Strategist at Timawo
"Only YOU can prevent HR Fires!"
William Maurer — Head of Global TA at Steelcase Inc.
"You're worse at this than you think, an intro to evidence-based selection"