DisruptHR Lansing (MI, USA) will be held on Wednesday, September 28, 2022, at Lansing Brewing Company and we're excited to announce an awesome lineup of speakers for their 2nd DisruptHR event!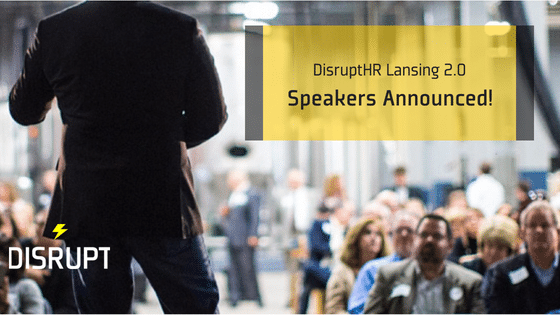 Brian Town — CEO of Michigan Creative
"Untaught (Lessons in Leadership)"
Brooke Peckham — HR Manager at Auto-Wares
"Promoting Career Growth at All Costs!"
Chris Schmelzer — Director at ScottMadden
"Change Management Needs Change (Pun – Intended)"
Jillian Johnson — Recruiter at Peckham, Inc.
"You can blame your amygdala"
Julie Bellamy — Founder of Sequelle HR Suite LLC
"Yes, You Can Improve Your Ability to Adapt!"
Kristen Brogan — Registered Dietitian, Private Chef, Author of Target To Table, & Yoga Instructor at On Target Living
"Mindful Eating"
"DISCover How to Uncover Your Communication Style and Why it Matters"
Matt Baxter — CEO of Wedge
"Untangling the Hiring Knot: Look at the Person, Not the Resume"
Megan Schlenker — Human Capital Consultant – Government & Public Services at Deliiotte
"The Future of Work: Generational Talent"
Shawn Lee — CEO of M.A.P.P. – Rock That
"Simple, Authentic and Strategic Investments in People can Explosively Change the Culture of Industry"
Shawn Premer — CHRO at Consumer's CU
"Just Because You Can, Doesn't Mean That You Should."
Tina Marie Wohlfield — Chief People Strategist at TIMAWO, LLC
"Wake up HR! It's Time to Get Curious"
Traci Ruiz — Owner of Traci Ruiz Consultants
"How Can I Help?"
Vikki Tomala — Manager, Data Analytics and Visualization at State of Michigan, Department of Technology
"Hybrid Work Teams: Tips to Lead"
Amy Forehand — Founder and Employeeship Coach at The Forehand Company
"Stop Chasing Engagement! Grow Employeeship™"
Thanks to DisruptHR Lansing 2.0 Sponsors!