DisruptHR Lagos (Nigeria) will be held on Thursday, May 18, 2023, at Victoria Island Lagos and we're excited to announce an awesome lineup of speakers for their 1st DisruptHR event!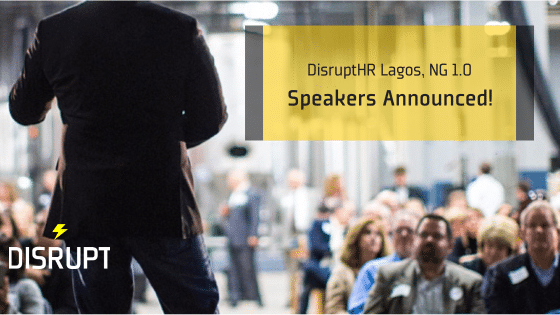 Anthony Sawyerr — CEO of Breeze Energy
"Trust as the Foundation for a Working and Evolving Work Culture"
Ajibola Opeoluwa-Calebs — General Manager, Talent & Development at MTN Nigeria
"Winning Through Personal Brand Management"
Ude Enebeli — General Manager, IT Service Management & Governance (SMG) at MTN Nigeria
"Digital Transformation: Technology – The New Era of HR"
Kolapo Olaleye — Senior Manager, Business Analysis and Planning at MTN Nigeria
"HR & Finance Functions: Need for Convergence"
Oludare Ogunlade — Regional Director, West Africa – Applications at Oracle Corporation
To Be Announced!
Eluemuno Olumagin — DVP, Corporate Resources at Heirs Holdings Oil & Gas
"Keeping Up With The Changing Landscape"
Pai Gamde — Chief Talent Officer at Coronation X
"Talent Management: Reinventing for Change"
Rabi Isma — Board Member at Stanbic IBTC  and Team Lead at Aiki Consulting Limited
"Are You Afraid of AI?"
Sola "Schullz" Mogaji — Music Curator/Podcaster
To Be Announced!
Chidinma Eke — Head, People & Culture at Emel Corporate Solutions
"You first! Prioritising Your Wellbeing as a Professional"
Lucy Bolaji — Senior Manager, HR & Admin at Junior Achievement Nigeria
"Embracing the Future: Navigating Talent Management in the Age of Disruption"
Moses Aiyenuro — Founder / CEO of Blueroomcare
"Reimagining Employee Well-being: Leveraging Virtual Mental Health Support to Cultivate a Thriving Organizational Culture."
Ayomide Idogun — Development Strategist/Policy Analyst
"Thank you, Covid?"
Charlotte Essiet — Director – Corporate & Regulatory Affairs at AOS Orwell Limited
"Diversity as a Superpower: Harnessing the Strength of Differences for Innovation and Growth"
Thanks to DisruptHR Lagos 1.0 Sponsors!