DisruptHR Kyiv (UA) will be held on Saturday, July 24, 2021, at UNIT City and we're excited to announce an awesome lineup of speakers for their 6th DisruptHR event!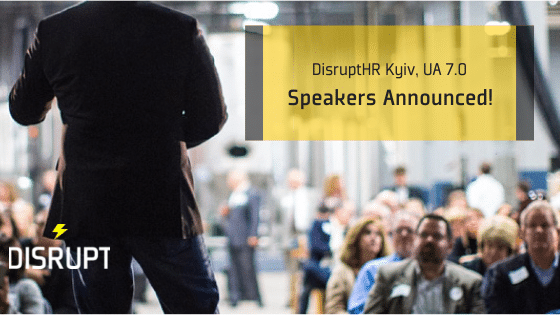 Olga Panivnyk — People Director at Preply
"Disruptive Diversity: The New Normal?"
Slava Balbek — Founder of Balbek Bureau
"How Company Values Affect the Productivity of a Creative Team."
Natalie Sadova — COO at Readdle
"Radical Culture x10?"
Vera Gorbachova — Head of Diagnostic Department at Center for Innovative Medical Technologies of the National Academy of Sciences of Ukraine
"How to Keep a Healthy Heart in the Battle with Daily Stress?"
Tatiana Sherman — Head of the Department for Work with the Foreign Markets at DTEK academy
"Philosophy of Care: Business Strategy of the Future"
Yuriy Filipchuk — Co-founder and Partner at Party.Space
"A Hybrid Culture in the Era of Remote Work"
Daryna Vilenska — Co-founder and Partner at Recruitment Partnerstvo
"7 Dangerous Recruitment Mistakes, or Why You Can't Attract Cool Top Managers."
Tanya Sokolova — producer at Radioaktivefilm
"Managing Large Teams in Film Projects"
Alena Kavka — HRD at KNESS
"Job Search Strategy for a TOP Manager"
Olga Targan — Project Manager at Starlightmedia
"From the Present to the Future: How to Win the X's Loyalty and Get on the A and Z Radars in One Go."
Anastasia Yefimenko — Managing Partner at PeopleForce
"Dismissal: the Revolution or How to Stay Friends"
Bondarenko Evgeniy — HRD at Media Group Ukraine
"Or (why) Do We Need More Numbers in HR?"
Tatiana Grinuova — Internet entrepreneur, journalist, founder of the charity platform Kind Challenge and ex-publisher of online media bit.ua. at KIND CHALLENGE
"Effective Altruism: How the Habit of Helping Will Make You Happier and the World Better."
Nadia Dvoinos — Co-founder and Partner at Quadrate28
"Work-life Balance. Or How I Survive in a Daily Routine."
Thanks to DisruptHR ___________ __.0 Sponsors!