DisruptHR Kyiv (UA) will be held on Thursday, November 29, 2018, at UNIT City and we're excited to announce an awesome lineup of speakers for their 1st DisruptHR event!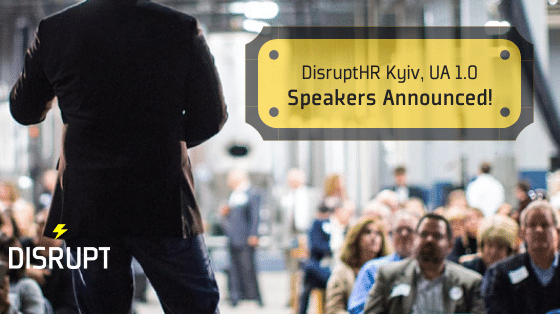 Nataly Emchenko — Public Relations and Communications Director at SCM, TV channel "Ukraine", Live.Love
"The Future of Professional Education"
Katerina Drobot — Employer Brand Manager at MacPaw
"Employer Branding: make people want to work with you"
Irina Marinina — Master of Human Capital at THIS IS ПИВБАР
"HR of future"
Oleksandr Pashchenko — Executive Director at Omni Channel Retail
"The mirror. Change-over to the "dark" side"
Valeria Merzlikina — HR-Generalist at StarLightMedia Group
"Culture of Engagement = a culture of responsibility. An environment in which one wants to do more than work."
Nastya Vladychynska — Founder, author & teacher of Vladychynska Consulting, First School of Service in Ukraine.
"Why service strategy is not only for customers?"
Yulia Lytvynenko — Regional representative of the global operator of flexible working spaces IWG, director of Regus and Spaces in Ukraine at IWG
"Workplace without a place: flexibility as a condition of efficiency"
Natalia Vinnikova — Director of Personnel and Communications at Lantmannen Axa
"Сreativity and innovation for a manufacturing company: how to make it real?"
Dmytro Sosnovsky — Head coach of the national Ukraine boxing team
"How to nurture the champions?"
Anna Mazur — CEO & Founder of Happy Monday
"Not a glass ceiling, but glass walls. Why honesty is the key advantage of a modern employer?"
Maryna Dyachenko — Founder and CEO of MANEZH 
"A team that lives an idea"
Olga Rashevskaya — Managing Partner at Quadrate 28 HR
"Successful "hiring" in the turbulence zone"
Ivan Dubnov — CEO of Omnicore 
"People are the pain"
Valeriya Ionan — Founder and managing partner of Quadrate 28 Corp., founder of MC Today online magazine and SMEA Business Academy of Quadrate 28 Corp
Moderator