DisruptHR Johannesburg (ZA) will be held on Wednesday, October 30, 2019, at Venus Fly Trap and we're excited to announce an awesome lineup of speakers for their 4th DisruptHR event!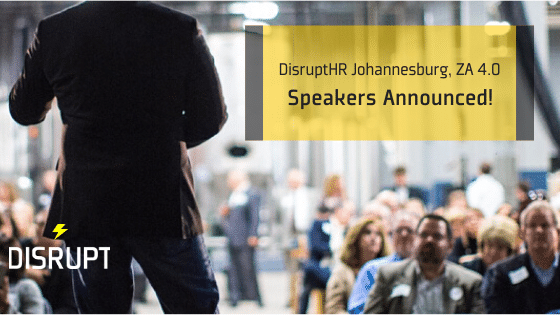 Carol Abade — CEO of EXP
"What if millennials did not exist?"
Reabetswe Molapo — Co-Founder of Think Africa
"African Millennials and African Tech solutions"
Arjan Molenkamp — Chief Operating Officer & Chief Retail Banking Officer at NMB
"Practice evolution to prepare for revolution"
Paul Charles — Executive Team Member at European International Univeristy (Pairs)
"Expecting the Pendulum Effect in Business"
Marissa Schwan — Director and Founder of 5G Future Fit
"EXPONENTIAL CHANGE TO SURVIVE:"
Paula Quinsee — Relationship Expert at Lionesses
"The Loneliness Epidemic"
Masenyane Molefe — Group Executive: Human Resources at PPS Insurance
"Millennials. The ones we have been waiting for!"
Adrian Ziller — Managing Director at Blue Pencil Creative
"Fallign Forward: Creatiev Innovation"
Darryn van den Berg — Founder of Passion4Performance
"Passion for Performance"
Angela Eustace — Industrial Psychologist at Headway Industrial and Organisation Psychologists
"HR, Set aside"
Lois Wagner — Coach at Coaching Conversations for Change
"Building perosnal and organizational resilience"
Michael Lee — Head of Industry Relations at Create Your Creativity
"Adapt or Die"
Emma El-Karout — Founder and Managing Director at One Circle HR
"The End of Work as We Know it – The Rise of Platform Work"
Ross Saudners — Managing Director at Ross G Saunders Consulting
"You Don't Know What You Don't Know"
Thanks to DisruptHR Johannesburg 4.0 Sponsors!