DisruptHR Houston (TX, USA) will be held on Thursday, February 28, 2019, at Rockefellers and we're excited to announce an awesome lineup of speakers for their 2nd DisruptHR event!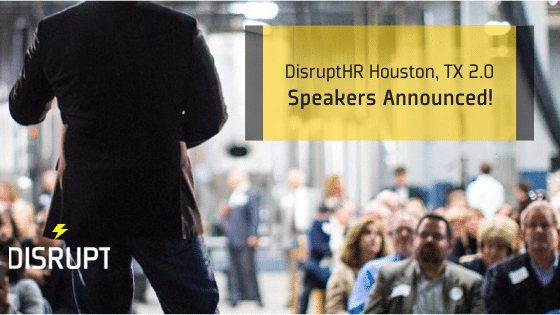 Metha Vasquez /@MethaVasquez — Vice President, Human Resources of Witt O'Brien's
"Duct Taping with a Purpose"
Dana Rubin /@VizibilityLab — Founder and CEO of VizibilityLab
"Lipstick on a Pig"
Roger Ferguson — Owner / Principal of iSi Human Resources Consulting
"Performance Appraisals Suck… The Life From Your Teams"
Adam Fineberg — Senior Vice President of USI Insurance Services
"Please Seat Yourself – Your Guide to The C-Suite Table"
Rod Branch /@RodBranch2 — Chief Human Resources Officer at HydroChemPSC
"Leadership: New Circus, New Monkey"
Bella Cruz — President of Bella Cruz Consulting and Training
"Everyone Communicates, Few Connect"
Liz Thomas /@Employ2Day — President and Founder of Employment Today LLC
""Erased Without a Trace" the soon to be "Gone AND Forgotten" role of the Recruiter."
Melissa Porterfield /@silkmtn  — Founder and CEO of Silk Mountain
"No Jerks Allowed"
Toni Harris Taylor /@toniharrisspeak— Chief Training Officer at Drastic Results Training Solutions
"Your Training Must be D.R.A.S.T.I.C.!"
Daniel Hall /@Dan_L_Hall — Director of HR & Risk Management at Student Alternatives Program
"The Power of Thank You"
Miche'Lynne McCarter-Bell — HR Consultant at MKK Bell Consulting
"Return to Sender! The criticality of your new hire onboarding and orientation experience!"
Thanks to DisruptHR Houston 2.0 Sponsors!