DisruptHR Hampton Roads (VA, USA) will be held on Thursday, June 7, 2018, at M.O.C.A. and we're excited to announce an awesome lineup of speakers for their 3rd DisruptHR event!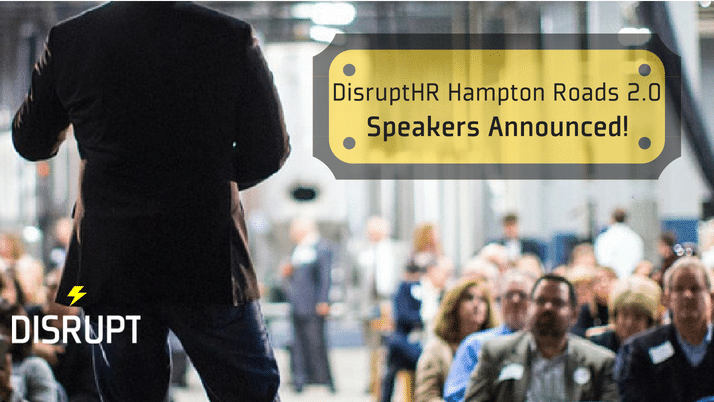 Shelley Smith — Owner/CEO of Premier Rapport
"The Anatomy Of Company Culture"
Mike Dugan — Owner of Sales XcelerationStopping
"The Revolving Door of Sales-Reps"
Kerri Arnold — Engagement Leader at Newport Group
"Disrupt Your Culture With Kindness"
Corey Shelton — Owner of Lime Life Media
"You're Acting Like a Real "B"-Stop It!"
Marcelle Fowler — Job Mixologist at CACI International Inc.
"Ambush Makeover…Development Edition"
Pratik Kothari — Owner/CEO of TechArk Solutions
"Tools to Transform Your Work and Personal Productivity"
Stu Danforth — Vice President of ADP
"Fixing the Talent Management Disconnect: Employer Perception vs. Employee Realities"
Kaila Kea — Owner of The Muse
"Core Coaching: The Value of a Company Career Coach"
Kimie Porter — VP of HR at Liberty Tax
"Creating a Conscious Corporation"
Anne Gilson — Director of Human Capital Solutions at One Digital Health and Benefits
"Hair on Fire & Human Resouces"
Thanks to DisruptHR Hampton Roads 3.0 Sponsors!