DisruptHR Edmonton (AB) will be held on Tuesday, June 12, 2018, at Royal Glenora Club and we're excited to announce an awesome lineup of speakers for their 4th DisruptHR event!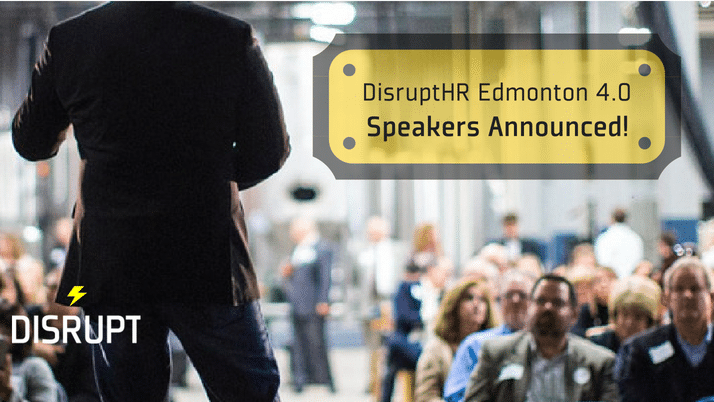 Dorothy Lowrie — CEO of Human Learning Architecture Inc.
"Re-Generating Our Aging Society"
Ravi Narine — Director HR & Organizational Development at Alberta Pension
"HR As A Paradox Navigator"
Alisa Lin — Human Resources at DistributionNOW
"We're Every Employee's Advisor And Counselor, But Who Do WE Turn To?"
Leanne Monsma — Lawyer at Field Law
"#metoo #employertodo #employernottodo"
David Muddle — Director at Western Management Consultants (WMC)
"Political Skill: The Key To Success In Today's Complex World."
Tara Dragon — Entrepreneur & Leader at Work Evolution
"Part-timers…The New Professional Superheroes"
Clint Clarkson — Founder of eLearning Alchemy Ltd.
"We Suck At Training"
Amanda Knight — Founder & CEO of SRQ Training and Assessment Inc.
"Why True Empowerment Is So Elusive"
Gina Potts — Chief Operating Officer at A3 Limited
"Business & Reconciliation; Truth & Reconciliation Commission Calls to Action #92 Indigenous Workforce Inclusion"
Margery Knorr — Corporate Ombudsperson at Knorr & Associates Ltd.
"The Paradox of Employee Complaints. The Opposite of Everything You Know – is Also True."
Cindy Seaton — Registered Psychiatric Nurse/Mental Health Therapist at Covenant Health
"Smooth Sailing or Man Overboard?"
Lina Bil — Human Capital Consultant at Elevate Potential
"Mindful Leadership"
Janet Waltho — HR Professional
"How do you keep your pitcher full?"
Thanks to DisruptHR Edmonton 4.0 Sponsors!