DisruptHR Dublin (IE) will be held on Thursday, October 3, 2019, at Arthur Cox Dublin and we're excited to announce an awesome lineup of speakers for their 3rd DisruptHR event!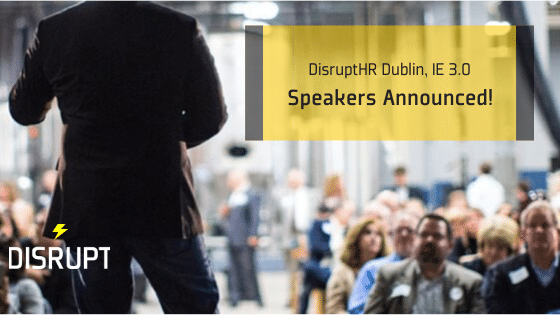 Jonathan Logue — Director, Learning & Development at LinkedIn
"Why Compassionate Leadership Is Not 'Soft'!"
Wendy Chin — Founder of Pinnacle HR
"Build It And They Will Come (And Stay)"
Andrew Cunningham — Chief Commercial Officer EMEA at Health Solutions, Aon
"Why Current Wellbeing Strategies Are Doomed To Fail"
Yvonne Kearney — Non-Commissioned Officer at Irish Defence Forces
"Tradition, Hierarchy And Innovation: Never The Twain Shall Meet?"
Andrew Blair — Head of HR at HSBC Ireland
"'All about Eve' – How Curiosity Creates Alertness To Change"
Ruth Graham — HR Director at Novo Nordisk and Gary Keegan — CEO of Uppercut
"How Team Identity Fuels High Performance"
Maeve McMahon — Marketing & Colleague Communications Director at Commercial Business and Private Bank, RBS
"The 'C' word"
Derek O'Donnell — Senior Vice-President, Business Optimisation at Brambles UK
"Don't Hide. We Need Our HR Professionals Out Front And Holding Our Leaders Accountable"
Peter Burke — Wealth DC Strategist Leader at Mercer
"Typical Approach To Pensions Won't Work Anymore"
Bébhinn Walsh — Global Employee Experience at Accenture
"Re-imaging Employee Experience!"
Triona Price Smith — VP, Lawyer, Global Head of HR Operations at Icon plc
"Welcome To The Darkside…Disrupting HR From Within"
Adam Hankin — CEO of Wagestream Ireland
"Fixed Monthly Pay? There's A More Flexible Way!"
Thanks to DisruptHR Dublin 3.0 Sponsors!