DisruptHR Dubai (UAE) will be held on Tuesday, February 26, 2019, at Citymax Hotel Al Barsha at the Mall and we're excited to announce an awesome lineup of speakers for their 1st DisruptHR event!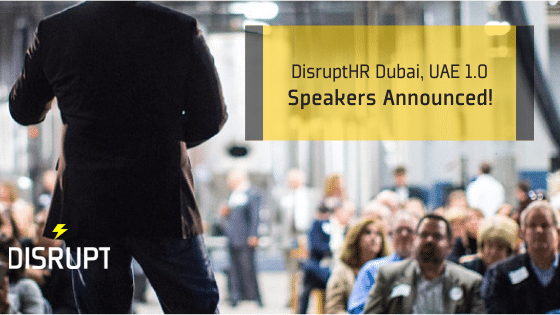 David Jones — Labour Market Economist, Founder & CEO of The Talent Enterprise
"The future of Assessments: Are you ready for 3rd Generation Talent Management?"
Shelly Kawatra — Senior HR Professional at Independent 
"18 Inches"
Phil Bedford — Author, Web TV Host, Business Consultant, Coach at Asentiv
"15 and a half secrets of Networking"
Rajan Kalia — Co-Founder of Saltto Dee Fe Consulting
"Busting Myths in Human Resources"
Greg Shuler — Chief People officer at UAE Exchange
"Making successful M&A happen!"
Ali Shabaz — Chief Creative Officer, Keynote Speaker at Grey Group, MENA
"Creativity is the answer. What was the question?"
Pradeep Nambiar — Talent Management Leader at Boeing International
"Anti-fragile: Dealing with the unknown in Succession Planning"
Samir Geepee — Conversationalist, Coach, Speaker at Awesome Walkers
"Vulenrability Quotient: How Groups transform into high performing teams?"
Nisheeth Pathak — Head of Organizational Effectiveness at Commercial Bank of Dubai
"HR is Dead. Long Live HR!"
Dalila Safir — Senior HR Professional at Independent (Ex Group HR Director, Aujan Coco-Cola Beverages Company)
"Authenticity in New Workplace"
Aly Shariff — Chief Operating Officer  at Citymax Hotels
"Destruct HR, not Disrupt"
Thanks to DisruptHR Dubai 1.0 Sponsors!