DisruptHR Detroit (MI, USA) will be held on Thursday, September 20, 2018, at The Beacon at Quicken and we're excited to announce an awesome lineup of speakers for their 2nd DisruptHR event!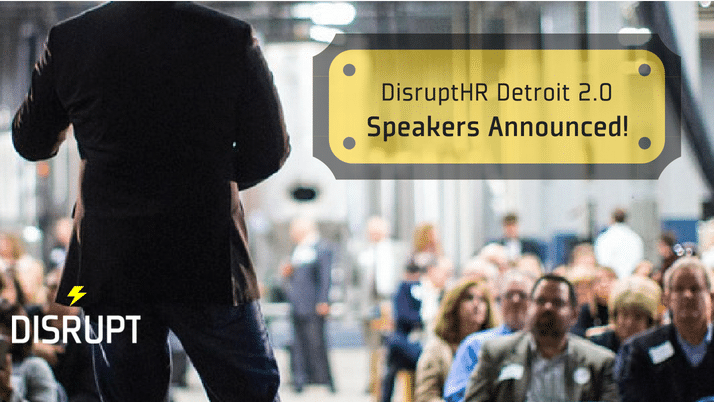 Becky Andree / @beckyandree  — CEO of Vertical Leadership Consulting
"CODE RED! Leadership Development Has flatlined! But I Have a Defibrillator!"
Michelle Clark / @Mc_beWell — Executive Vice President, Benefit Wellness at HUB International
"The Power Of Purpose – Stop Sucking The Life Out Of Your People!
Danielle Crane — Chief Talent Officer at GreenPath Financial Wellness
"Nobody Smokes in Church"
Melissa Fairman / @MFairman216 — Sr. HR Manager at Mickey Thompson Tires & Wheels
"Make Work Suck Less!"
Kimika Garrett — Principal Consultant at Organizational Kimistry
"Planning With A Twist"
Cody Grant — Company Engagement Manager at Grand Circus
"The Dynamic Art of Job Descriptions"
Chris Groscurth / @CRGroscurth — Practice Area Lead at Slalom
"Hustle Smarter: Future-Ready Human Resources Leaders"
Kat Hoyer / @kat_hoyer  — HR Manager/Life and Career Coach at Compose Coaching, LLC
"Stop Trying To Make Your Employees Happy"
Josh Schneider / @_joshschneider — Director at Millennial & Employee Engagement Institute
"The Tingly Feeling Compass"
Melanie Stern / @MelanieStern1 — Founder of Melanie Recruits
"Becoming Comfortable With Discomfort: Hiring For Culture Fit vs Culture Add"
Iris Ware / @Iris_Ware — Chief Learning Officer at City of Detroit – Office of Talent Development and Performance Management
"They Said We Couldn't Do It But We Did!"
Tina Marie Wohlfied / @TMWohlfield — Chief People Strategist at TIMAWO, LLC
"Don't Fear the Peacocks! Embracing Organizational Change Through Diversity"
Thanks to DisruptHR Detroit 2.0 Sponsors!