DisruptHR Des Moines (IA, USA) will be held on Wednesday, October 20, 2021, at The Hall DSM and we're excited to announce an awesome lineup of speakers for their 4th DisruptHR event!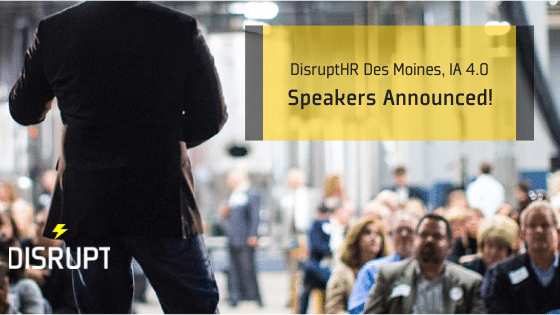 Josh Dahle — Senior Consultant at Korn Ferry
"Workers Aren't Coming Back to Fill Your Jobs. What happens when a once-in-a-century pandemic and a decades-long trend of labor force decline collide."
Deidra Schleicher — Professor and Chair at Department of Management and Entrepreneurship in the Ivy College of Business at Iowa State University
"Identifying Potential: Why Is This So Damn Difficult?"
Tom West — Vice President of MākuSafe
"Level-Up HR's Safety & Work Comp Game With Wearables?"
Kevin Schleuter — Partner at Reworc
"Happiness or Success?"
Kaylea Wilde — Business Intelligence Consultant at Reworc
"Performance (mis)management"
Joey Spivey — Learning and Development Manager, Diversity Officer at SHAZAM
"Flaws, not features: your well-intentioned learning culture killers"
Todd Saffell — Manager of HR, Payroll and Safety at Control Installations of Iowa, Inc.
"Embracing Cancel Culture"
Melissa Vine, MA, LMHC — Executive Director at The Beacon
"When Awkwardness is a Leadership Skill"
Nana Coleman — VP of Product Development and Revenue Operations at Fleri, Inc.
"Discretionary Resourcing as an Avenue for Innovation"
Nick Malcom — VP of HR Operations at Kum & Go
"Stop Hiring HR People"
Chick Herbert — Chief Experience Officer at NCMIC
"The Power of Working "On" the System"
Arron Cramer — Financial Advisor at Financial Decisions Group, LLC
"The Failure of Financial Education"
Thanks to DisruptHR Des Moines 4.0 Sponsors!