DisruptHR Denver (CO, USA) will be held on Tuesday, May 2, 2023, at Mile High Station and we're excited to announce an awesome lineup of speakers for their 14th DisruptHR event!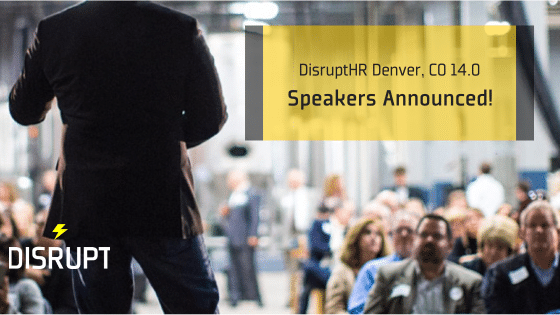 Anna Bruns — Head of Talent & Culture at Popmenu
"Survivorship Bias and Why We Fall for It"
Carmela Montenegro — DEI Consultant at Not Mad, Just Misunderstood
"I Don't Look Like the Rest of the People in the Audience"
Charlie Poirson — Sector Leader at Korn Ferry
"You Can(!) Handle the Truth!"
Dr. Liz Wilson — Behavioral Scientist at Include Inc
"Inclusion Beyond the Labels"
Dr. Violeta Garcia — CEO & Systems Designer at Ecosysistema Design LLC
"Disrupting Bias in the Workplace"
Evan Stratton — Vice President & USMC Veteran at AON
"Is your Time Away Policy Extraordinary?"
Fritz Saur — Founder & Chief Coach at ControlStress.org
"Tyrannosaurus STRESS"
Jordan George — Principle, Head of Client Solutions at Curium Solutions US
"It's About Time: Why a Shorter Working Week is Better for Your People, Your Company and The World"
Josh Miller — Co-Founder & CEO of Ideas xLab
"The Courage to Uncover"
Kaliah Watts — Sr. Specialist, People Experience at Slalom
"So, What's With the Hair?"
Kylie Rogers — Chief People Officer at RMI
"What Do We Stand For? Organizational Tension between Purpose & Pragmatism"
Lori Frisher — CEO of Ready or Not! Media
"Do You (Really) Hear Me?"
Otisa Eads — HR Consulting at Otisa Eads LLC
"Transformative Conflict Requires Curiosity"
Tarell Pierson — Associate Client Partner at Korn Ferry
"Learning and the Metaverse"
Thanks to DisruptHR Denver 14.0 Sponsors!