DisruptHR Dallas (TX, USA) will be held on Wednesday, March 11, 2020, at Venue Forty50 and we're excited to announce an awesome lineup of speakers for their 5th DisruptHR event!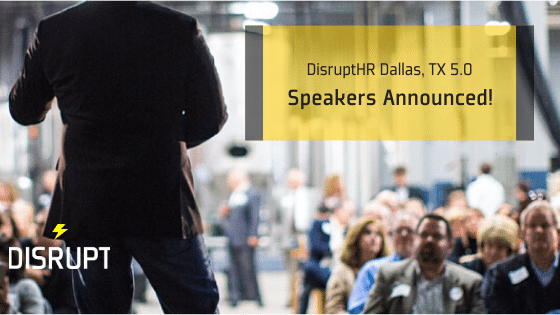 Renea Skelton — Leadership, Communication Consultant, EI Coach, Personality Trainer, Speaker at Renea Skelton, llc
"Banish the Buzz in HR"
Andrew Davis — VP of Product Management at TrenData
"Recruiting/Retention strategies are hiding in your existing data"
Ashley N. Duncan — Specialist, Diversity Hiring at Jefferson County Public Schools
"Leading Human Resources from the Diversity Perspective: What equity looks like and why doing business as usual is no longer acceptable."
Alissa Penney — Owner, HR Consultant at A Better HR
"Self-Care for HR Professionals"
Melerick Mitchell — Talent Development Architect at Drive Influence
"Redefining Career Ladders in the Age of Purpose"
Arlene Peterson — EEO/AA Consultant at City University of New York (CUNY) and Former Chief Diversity Officer at Arlene Speaks It
"Cultivating HR Superpowers by Activating the Go-Getter Gene"
Stewart Gooding — Dir. Regional VP RIA Distribution at HSA Bank
"Advisor-Directed HSAs will help you Migrate your Employees from that Traditional PPO Plan into your HDHC Plan"
Sue Mintz — Coach, Facilitator, Author, Speaker at Retirementhood
"Preparing Retirees For the Non-Financial Side of Retirement: An Added Benefit"
Aaron Florez — President of Victory Relo
"A Problem in Relocation – Lump Sums"
David Simmonds — Chairman at HCM METRICS
"ISO 30414 – Getting the measure of HR"
Thanks to DisruptHR Dallas 5.0 Sponsors!