DisruptHR Colorado Springs (CO, USA) will be held on Wednesday, February 5, 2020, at The Pinery at the Hill and we're excited to announce an awesome lineup of speakers for their 2nd DisruptHR event!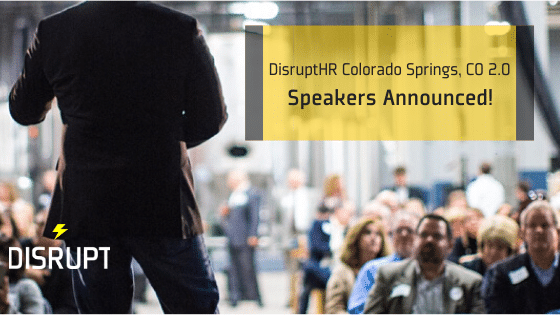 Amanda Weedman — Senior Recruiter & Coach at Goodwin Recruiting
"The Loyalty Formula"
Fabiana Nardi — Senior Strategic HR Consultant at Korn Ferry International
"I See True Colors Shining Through Your Company's Culture!"
Ken Hensley — Senior Pastor at Mountainview Christian Church
"Resilience: How Champions Move Forward"
Desaray Bibb — Sr HR Business Partner at Jefferson County
"Addressing Incivility"
Brooke Chesnut — Keynote Speaker & Consultant
"How an Inspired Culture will Impact Today's HR"
Amanda Barnett — Organizational Behavior Management Practitioner at Performentor
"3 Things Google Gets Wrong With Motivation and Why You Should Follow a Behavior Science Approach"
Allison Barr — Leadership Solutions Facilitator at Center for Creative Leadership
"Dear HR: Time For a Corrective Action Plan"
Heather R. Younger, J.D — Keynote Speaker & Founder of Customer Fanatix
"Emotion Potion: The Secret Formula for Creating Amazing Employee Loyalty"
Donna Carlson — Human Capitalist & Life Strategy Coach at 360° Life Strategies
"Leadership Development Doesn't Work"
Dan Steele — Vice President of Operations at GavinHeath
"Sourcing for a Diverse Workforce"
Dr. Debra J. Dean — President & CEO of Dean Business Consulting
"Respectful Pluralism: Including Everyone"
Brian Harris — Sales Learning & Development Manager at Paylocity
"Digital Disruption of the Employee Experience"
Jennifer Yugo, PhD — Owner & Managing Director at Corvirtus
"Comfort is the Enemy of Progress – a Being a Remarkable Place to Work"
Thanks to DisruptHR Colorado Springs 2.0 Sponsors!