DisruptHR Cincinnati (OH, USA) will be held on Wednesday, October 23, 2019, at The Transept and we're excited to announce an awesome lineup of speakers for their 7th DisruptHR event!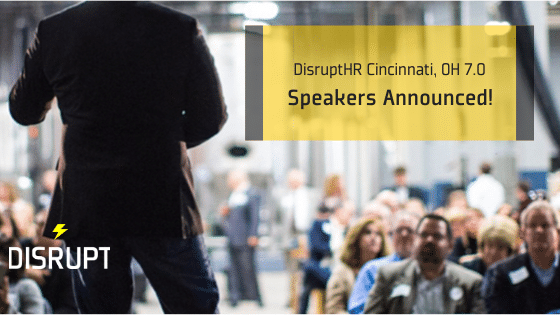 Matt Adam / @madam — Chief Talent Strategist at NAS Recruitment Innovation
"The Business Case For Naps"
Mishawn Styles / @MishawnStyles — Human Resources Manager at DePaul Cristo Rey High School
"Collusion & Sabotage Of Our Greatest Resource"
Paco Tello / @pacoteza — NA VP of Manufacturing & Engineering at Perfetti van Melle
"The DNA Of Engagement"
Julie Niesen / @winemedineme — Marketing Manager at Cisco Systems, Inc.
"Equity & Advocacy: Women, The Workplace & Showing Your Cards"
Mike Halloran — Professor of Entrepreneurship at Xavier University
"The ROI On A College Education Sucks (Let's Fix It)"
Heather Muzumdar — Counsel at Thompson Hine LLP
"Perception Matters"
Derick Fiedler / @DerickFiedler — Mental Health Outreach Coordinator at Penn State Behrend University and Founder of The Paradigm Journals: Mindfulness Project
"Your Employees Are Sick Of Lying, Literally."
Sherry Sims / @BCWNetworkCEO — CEO | Talent Acquisition Pro at Black Career Women's Network
"Diversity Can't Catch A Break: Getting Out Of Our Own Damn Way To Smash The Myths About Workplace Inclusion"
Benjamin McCall / @BenjaminMcCall — Principal Consultant at Focus Consulting and Organizational Effectiveness Consultant at Sinclair Workforce Development
"The Robots Aren't Coming… They're Here! Real Talk On The Future Of Work"
Amanda St. John — Recent Graduate at Bowling Green State University
"Time To Face The Change"
Lisa Ward — Senior Product Designer at Paycor
"The Spooky Business of Delegating Culture"
Ash Norton / @AshNortonEL — Founder of Ash Norton Engineering Leadership
"Technical Smechnical: Why Hiring The Smart Engineer Is Often A Dumb Idea"
Thanks to DisruptHR Cincinnati 7.0 Sponsors!